Doritos
"Some things simply go best with the guys"
At Doritos, we believe that your very best friends are much more than just friends. They are the ones who make up the experiences, memories and moments that stay with you for life, the ones that leave you hungry for more long after they're gone.
Because between us, the things you'll remember in life aren't the exams or the math lessons, but that time when you were sitting on the fence, eating Sweet 'N Sour Doritos and telling jokes for hours. Or that day in summer when it was soooo hot you all had absolutely no choice but to cut history class and go hang out on the beach with a bag of Flaming Hot Doritos.
Like a snuggle rug in winter, ketchup on fries or a song by Britney at a great party, Doritos is that little extra "crunch" that hits the spot every time you meet up with the guys, making each get-together perfect. No matter if it's summer or winter, if you're home or out or if the music is the coolest or sucks, all you need is a bag of Doritos and your very best friends, and it'll turn into that kind of evening you'll never forget… 
Variety of Products
Flaming Hot Doritos
Turn on the air-conditioner and make sure there's plenty of water and a bucket full of ice, because these Doritos are going to set your mouth on fire! If you're looking for the snack to raise your spirits through the roof, these Doritos are for you – crunchy, spicy – and flaming hot!
Natural Flavor Doritos
You don't always need to be carried away – sometimes the simplest of things are the best. Because what could be more fun than just hanging out with the guys, shooting the breeze over a giant bag of Natural Doritos?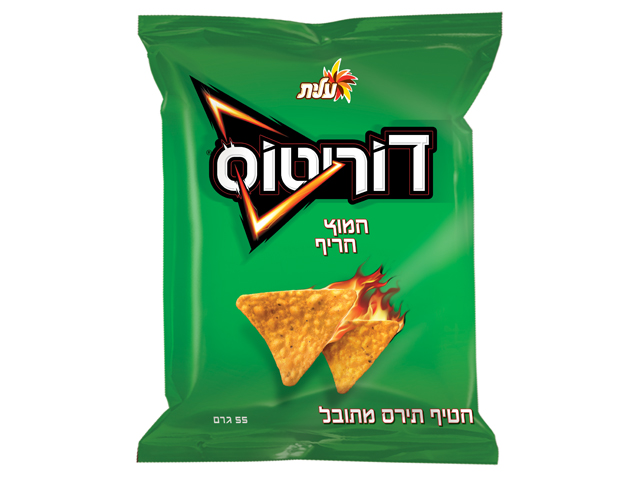 Hot & Sour Doritos
The guys are cranky? This would be the moment to whip out the Doritos to get them out of the funk and tingle their tongues! With this winning hot and sour combination we recommend that you get a stash of bags ready, because these Doritos will disappear faster than the time it takes you to get out of class the moment you hear the bell…
Grill Flavor Doritos
Forget the charcoal, barbecue and smoke, because Doritos has a BBQ flavored snack that'll make you and the guys feel you're celebrating Independence Day – without the hassle. Sounds good, huh? We think so.
Mexican Nacho Doritos
Hola, amigos! For a faraway flavor that's great with or without the tacos or burritos – close your eyes, dream you're on the beach in Mexico, and munch away! But don't forget to invite the gringos…
2 Flavor Doritos
Who said you can't have your cake and eat it? Although we don't think you'll have any room left for cake after all those Doritos you've eaten… Doritos invite you and the guys to enjoy the snack that is this and all of that, too: 2 flavors in 1 bag.
Barbecue Puffed Doritos
Know that dude who's such a snob that he even looks all puffed up? We made Puffed Doritos especially for him (and for the rest of you hungry guys), light, airy, super-crunchy puffed Doritos triangles that literally crackle when you eat them.
Doritos Dip
No snacks? Don't make us laugh! Doritos Dip is exactly the kind of snack you just can't eat alone. On the table in front of the TV, peeking out of the bowl with salsa on the side, all you need to do is make sure there's enough for everyone. Remember the days when you used to order pizza?
History
1997
The taste that rocked the world
After sweeping some 30 countries outside the US market off their feet and earning the title of the world's fastest-growing international salty snack brand, the successful, favorite American snack makes "aliya" and lands in Israel's stores! The first flavors to arrive are Nacho Mix and Ranch Grill.
1998
Congratulations are definitely in order
One year later we decided to enlarge the family and added a new flavor, American Barbecue. And that isn't all – we quickly discovered that Israelis are crazy for Doritos, which took the local corn snack market by storm and gained a market share of around 65%!
2001
It's only natural you'll love Doritos
For Passover, we launched a special edition of Natural Flavor Doritos. Due to consumer demand the product stayed on the shelf after the holiday, and you can find it in stores to this very day. In 2001 we also changed the product packaging and replaced the logo in English with a Hebrew one.
2003
Start dipping
In 2003 we announced the launch of Doritos Dip – salsa in two flavors, mild and hot, that was developed together with a new snack especially made for dipping. The new Doritos product was designed for entertaining, snacking in front of the TV, or for anyone looking for a quick snacking solution.
2005
More news!
In April 2005 we launched Doritos in new flavors, kosher for Passover: Grill and Sweet 'N Sour. In the first half of 2005 Doritos was the Company's fastest-growing salty snack brand, accomplishing 50% growth in value terms.
2006
Fire!!!
Flaming Hot Doritos landed on the shelves as a limited edition. About one year later, following the product's amazing success, Flaming Hot Doritos was re-launched and is still on the shelf.
2007
An advertising executive is born
For the first time in Israel, the consumers were the ones who made and selected a new commercial for the brand. The competition sponsored by Doritos and the successful reality TV show, "A Star Is Born 5", invited consumers to propose their own commercial for Doritos, which was broadcast just before the winners were announced in the finals of the show. Following the campaign's success, Doritos launched the "An Ad Exec Is Born 2" in 2008 as well.
2009
And now for something a little different…
Consumer involvement continued, and in 2009 we invited surfers to design the Doritos pack including a road safety slogan as part of the "Drive Differently" campaign. The pack chosen by surfers was distributed in a limited edition and helped raise road safety awareness.
2010
Snack & Cash
In 2010 Doritos and Tapuchips ran a crazy campaign – whoever texted the code on the pack won NIS 500 or another bag of snack food. Every day consumers won tens of thousands of shekels in the cellular game, with one surfer winning NIS 1,000 in the daily draw on Facebook.
2011
The snack the guys love best
In 2011 we organized a really cool empty house for our guys on Facebook, all to themselves! All they had to do was access the app with their four best friends and see how well they knew each other. The closest group of friends got to chill out in the villa, without anyone there to cramp their style…
2012
Blowup!
In 2012 we enlarged the Doritos family again, adding new snacks. In June, Puffed Doritos were launched for the first time – little triangular 3-dimensional snacks with a light, airy and crunchy texture, in two devastating flavors – Barbecue and Sour Cream & Onion. A few months later we launched the perfect combination – two new Doritos flavors in one bag – American Cheese and Spicy Grill!