back
The Annual Sustainability Report of Strauss Group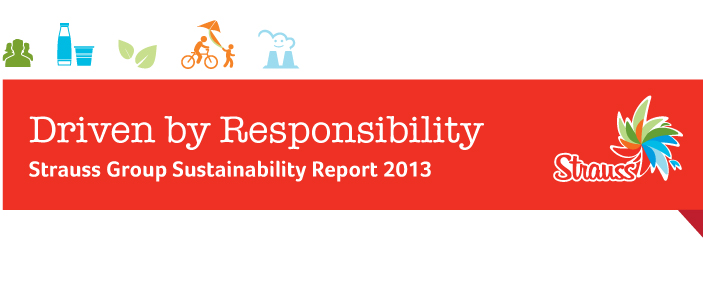 Strauss Group, one of Israel's leading companies in corporate responsibility and among the first major companies to publish an annual report to the public on its activities in this field, today published the seventh annual sustainability report that summarizes 2013. This Report, which complies with leading international CSR standards, specifies the Group's activities in 2013 with all its stakeholders – employees, customers, consumers, suppliers, social and environmental organizations, government agencies and more, while showcasing Group performance in relation to previous years.
The Report engages in six issues: Advancing healthy lifestyles, Product transparency and responsible marketing, Reducing resource consumption and waste, Diversity in everything we do, Engaging our employees and Ethical supply chain, while focusing on three major processes:
Public transparency regarding our 2020 Sustainability Strategy which includes 15 targets that will drive performance improvements in relation to our employees, consumers, ethical supply chain, environment and community.
Further improvement in the nutritional profile of our products from our commitment to improving people's lives.
Developing a 360 degree approach to relationships that includes significant expansion of dialogue channels with stakeholders via open platforms, in order to enhance dialogue and innovation through diverse stakeholders.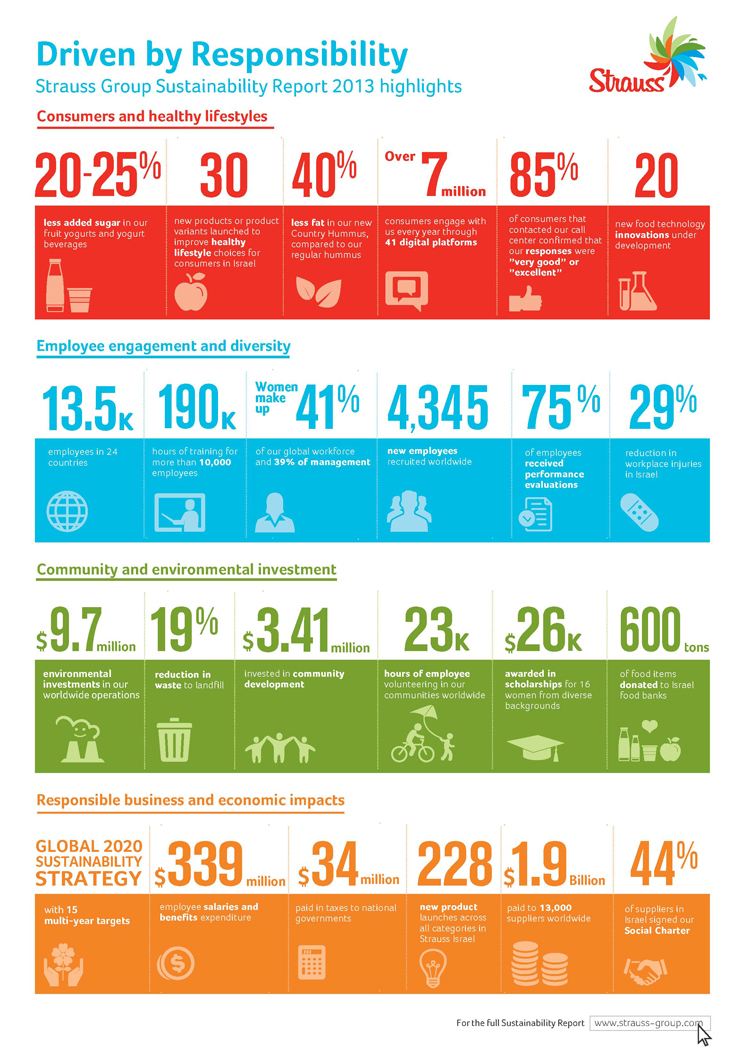 The Group offers more than 30 products designed to promote a healthy lifestyle, and has launched new products that follow this trend. Among them: salt-reduced salty snacks (saving about 3,000 kilograms of salt), a new fat-reduced hummus product (with 13% increase in protein level), sugar-reduced yogurt products (up to 25% less sugar), coffee products rich in antioxidants, products containing high percentages of dietary fiber and natural protein, and calorie-reduced chocolate products rich in fiber and low GI (a joint project of the Technion and Weizmann Institute.) Also added this year were products for gluten-intolerant consumers.
The Group also enhanced its diverse supply chain and employment practices during 2013. To this end, we established a special service center operated entirely by ultra-orthodox women, mapped all Group suppliers in Israel (2500) to increase the number of women-owned suppliers from which the Group procures, and increased the percentage of women employed in managerial levels in the Group (one percent from last year, 7 percent in senior management positions over the last three years). Additionally, in the past year the Group secured continuous supplies to farmers whose crops were damaged by harsh weather conditions, while assisting the  harvest, distribution and sale of these damaged goods. The Group also increased purchases of coffee and cocoa from sustainable sources in various areas around the world.
The Report addresses the number of safety incidents among employees, which dropped on both the global and local levels. In terms of the environmental performance of the Group, the salads plant in Karmiel, for example, reduced energy consumption by 9%, water consumption by 6% and greenhouse gas emissions by 4 % this year. However, due to the addition of new facilities in Russia, the Netherlands and particularly Germany (a new freeze-dried instant coffee production factory), there was a rise in absolute energy consumption and in water consumption per ton of production of the Group globally. In the past year, all water bars produced by the Group won the ENERGY STAR approval of the U.S. Environmental Protection Agency and the Ministry of Energy, which guarantees that  they possess the highest energy efficiency on the market.
In 2013, the Group placed a special emphasis on increasing its direct contact with consumers, in order to receive direct feedback from them on various products, understand their preferences and ensure the production of added value in new technologies. 41 digital channels have been built to-date, to engage in direct contact with more than 7 million consumers. Also, the total financial investment in the community grew to NIS11.8 million with 23,000 employee volunteering hours worldwide.
In its annual report, Strauss presents the 2020 sustainability strategy, thereby joining the world's largest international corporations. The strategy sets 15 global objectives in various fields to improve the Group's sustainability performance with employees, customers, supply chain, the environment and the community. These strategy goals include 15% increase in sales of products that promote a healthy lifestyle, reformulating products under the top 10 brands for populations with special health needs, increasing procurement from sustainable sources by 15%, reducing energy and water consumption by 15%, increasing the percentage of waste recycling by 15%, achieving full gender balance, increasing procurement from women-owned suppliers to 10% of the total procurement cost, reaching 10 million consumers directly and more.
Mike Avner, Member of the GMT and Group CR officer: "We are proud to publish, for the seventh consecutive year, a public account of our activities in the field of ​​sustainability. For us, doing business in a good and responsible manner that reflects our commitment to the communities in which we operate is an integral part of the growth strategy of Strauss Group. The great detail found in this Report, along with the public presentation of a multi-year strategy in sustainability, reflects transparency which we believe is a condition for constant improvement. We believe that the process of showcasing our performance over the past year and setting goals for further measures and objectives is a condition for enhanced confidence between consumers and us, as it reflects our mode of operation at Strauss Group."