back
2013 Annual Jasmine Conference to Promote Women-Owned Businesses
from news and media, Israel ,Strauss Israel
19/01/13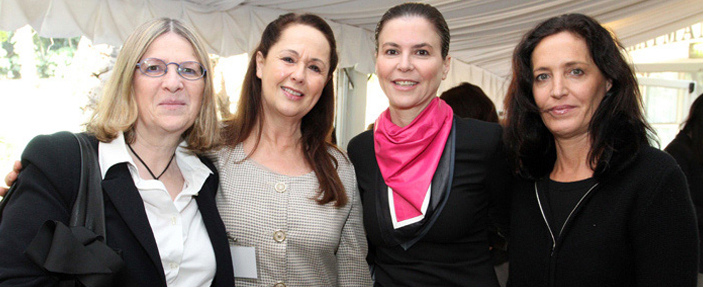 The 12th annual Jasmine Conference for the advancement of small businesses owned by Jewish and Arab women was held today. This annual event brought together business, public and social sector representatives, foundations and microfinance institutions, as well as Jasmine members – Jewish and Arab women who own small businesses.
As an organization that chose Diversity and Inclusion as a central theme in human capital management, Strauss Group, operates through partnerships with organizations, social NGO's and other businesses that team together for the same purpose – leadership for the advancement of diversity and inclusion.
To this end, Strauss teamed up with Jasmine several years ago – an organization that works to advance the economic independence of women in Israel. Ofra Strauss serves as President of Jasmine.
The conference this year focused on diversity in the supply chain as a business driver and the power of women-owned businesses as suppliers. The guest of honor was Ms. Elizabeth A. Vazquez, co-founder and CEO of the global WEConnect organization that helps female business-owners succeed in global markets by connecting women-owned small businesses and business opportunities. Moreover, it helps companies implement diversity practices in their supply chains.
Ms. Vasquez is a serial social entrepreneur and a leading global authority on implementing diversity and inclusion practices among suppliers. At the conference, Vasquez presented practices for creating diversity along the supply chain as a business driver.
Ofra Strauss presented the bigger picture of women-owned businesses in Israel in 2013 and expanded on the importance of integrating such businesses into supply chains of big businesses. She highlighted the competitive advantage inherent in promoting the conversation and practices of this issue, as well as the company's profit from promoting equal opportunities.
"Businesses, the State and the third sector should join forces for a fairer society, around the theme of diversity and inclusion in the supply chain, diverse suppliers in general and work and procurement with women in particular. At a time when the terms "social justice" and equal burden" top our agenda, we have a suitable platform on which to make the change, and only truly-equal opportunities will make that happen," said Strauss.
Another speaker was Lilach Asher-Topilsky, Deputy CEO and Head of Retail Banking at Bank Hapoalim, who provided a snapshot of small businesses in Israel. According to Topilsky, "In recent years we have seen more women in banking, and I believe that an increasing number of women in this industry will help us connect and interact with women-owned business and entrepreneurs, thereby supporting small businesses and growing them toward sustainable success."
During the conference, a panel was held with the participation of V.P. Supply Chain of Strauss,representative of the Procurement Administration at the Ministry of Finance, and two female business owners. The panel discussed procurement policy in large companies and ways to make supply chainsaccessible to women-owned businesses. The second part of the conference included practical workshopsfor women who own small businesses, administered by experts from ZAP Group who sponsored these workshops.