back
"DONCAFE" Cups for happier childhood
from news and media, Israel ,Strauss Coffee B.V.
28/06/12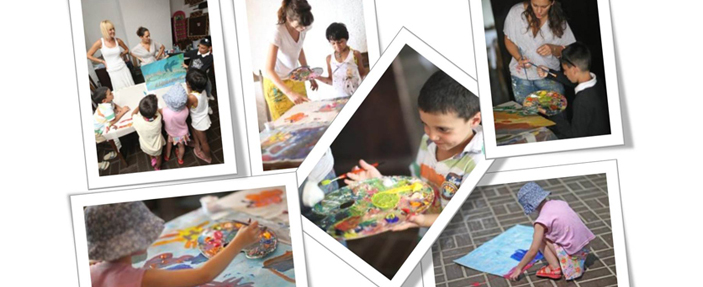 Eight unique cups painted by children from "Jovan Jovanović Zmaj" Centre presented
Belgrade, October 26, 2011 – Drawings of children from the "Jovan Jovanović Zmaj" Centre and the Children's Shelter decorate a limited series of Doncafé cups. The campaign has been implemented within the "Doncafe and children paint your view of the world" project and the aim is to raise funds for the purchase of the central heating boiler in the Centre and of equipment for the sensory room of the Centre for the Protection of Infants, Children and Youth by allocating RSD50 from each pack, containing a cup and 2x200g of Doncafe Moment coffee, sold. The first of the two series of 20,000 gift packs each will hit the shelves of hypermarkets and supermarkets by end-October.
The children painted their favourite motives, and out of a multitude of interesting works, eight were selected to decorate the cups. This year's campaign represents a continuation of the "Doncafé and children paint your view of the world" project, implemented in cooperation with the "Drinka Pavlović" Centre last year.
"After last year's success and satisfaction of the children, we have decided to include children from other centres within the Centre for Protection of Infants, Children and Youth in the campaign.Enthusiasm with which they have painted confirm how much this type of socialising, during which they have had an opportunity to express their creativity, means to them. Their smiling faces motivate us to continue working on improving conditions of their life and encouraging their talents," said Olivera Jokic, Public Relations Manager of Strauss Adriatic.
In the last year's "Doncafé and children paint your view of the world" project, children from the "Drinka Pavlović" Centre painted 22 cups, which were part of a limited series of 2,200 items. Strauss Adriatic purchased a volume of the cups, initiated sales of the packs to its business partners and raised more than RSD1 million, used for purchasing a new drying machine, furniture for the Centre and installation of video surveillance equipment.
Strauss Adriatic operates within multinational company Strauss Group, which has been the 100% owner of the Doncafé brand since May 2005. Strauss Group is a global food and beverages producer with more than 13,500 employees in 21 countries in Europe, Asia, South and North America. Strauss Coffee, the company' subsidiary specialised in coffee production, is the fifth largest global company in regard to coffee trade which has tripled its growth in the last seven years. Doncafé factory is one of eleven production units which supply 15 coffee markets around the world. In Brazil, the largest global coffee producer, Strauss Coffee has four factories, and is positioned immediately after the leader. Since Strauss entered Doncafé, more than EUR60 million has been invested, which is the largest investment of this multinational company outside the Israel, it's home country.
"It is a precious experience for our children to see their works at Doncafé cups. They enjoyed expressing their creativity and painting their favourite motives, supported by painter Jovana Tomanović, who has been their mentor for years. Our children will know that they are rewarded through creative work and that is the most important message of this campaign," said Zoran Milačić, Director of the Centre for the Protection of Infants, Children and Youth.