back
Enjoying an Israeli Experience: Sharing the Hummus Experience
from news and media
01/01/70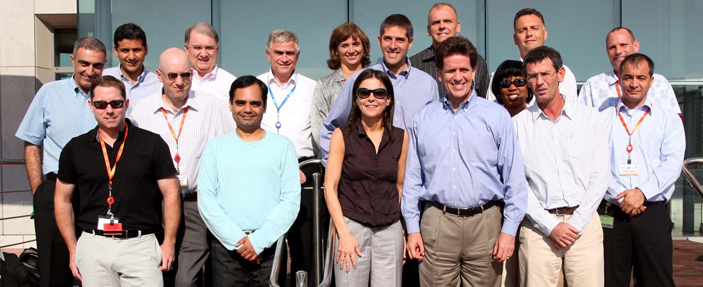 Ofra Strauss, Chairperson of Strauss Group, Gadi Lesin, President & CEO, and Giora Bar Dea, CEO of Strauss North America, Recently Hosted, in Israel, Frito Lay North America's President & CEO Al Carey, Jaya Kumar, SVP & CMO, Dave Rader, CFO, and Regan Ebert VP & GM, as well as Members of Sabra's Board of Directors and Management Team, on Behalf of Sabra, a Salad Company Under Joint Ownership by Strauss and Frito Lay in the U.S.
Ofra Strauss and Gadi Lesin recently hosted senior executives from PepsiCo-Frito Lay, members of Sabra's Board of Directors, and management members of Sabra, which is the fastest-growing company in the Group and the No.1a market leader in the U.S., for a tour highlighting Israeli experiences.
The guests attended a breakfast class with renowned Israeli chef Erez Komorovsky, visited Group factories and toured the Strauss Founders House in Nahariya. The tour included hummus tastings at some of the best hummuserias in the country, and visits to various restaurants specializing in Mediterranean dishes – a program designed to serve as a source of inspiration for further activities in the U.S.
Senior Frito Lay executives delivered fascinating lectures to managers at Strauss. Al Carey, President & CEO of Frito Lay North America, presented the activities of PepsiCo and its largest division Frito Lay. He told the story of a company created in a similar manner to Strauss – from the modest initiative of one person who started selling chips stored in a single truck and went on to purchase other companies across the U.S.A., building a company that was eventually acquired by PepsiCo, and whose products are enjoyed throughout the world.
Files available for download