back
Excellence Award of The CFO's Forum Granted to Shahar Florence, Chief Financial Officer and Member of the Strauss Group Management Team
from news and media, Israel
07/01/15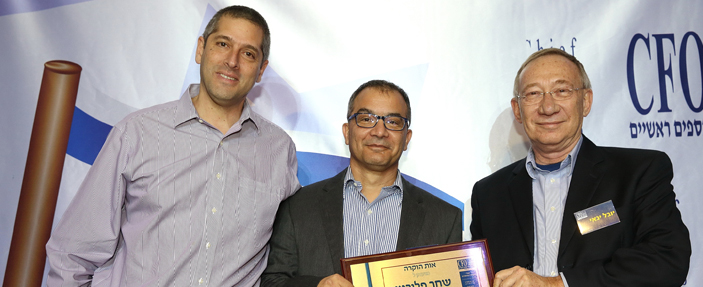 On Monday, January 5, 2015, the CFO's Forum granted its 2014 Excellence Award  to Shahar Florence, Chief Financial Officer and member of the Strauss Group Management Team.
With about 650 members, the CFO's Forum represents chief financial officers of leading companies in the Israeli economy, representatives of industrial, trade and service companies, high-tech as well as traditional industry, from the center to the periphery, privately-owned as well as government companies, and publically-traded companies listed both in Israel and abroad.
This Excellence Award is presented annually to CFO's that demonstrate exemplary practices in their respective companies, while being part of the team that steers the advancement of the Israeli economy.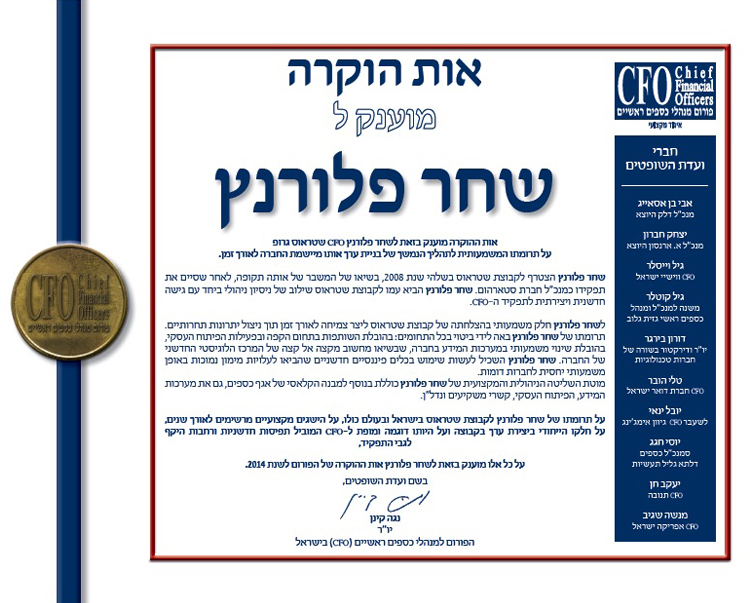 Excerpts from the Judges' considerations
"This Award is hereby granted to Shahar Florence, CFO of Strauss Group, for his significant contribution to the continuous value-creation process that the company applies over time.
Shahar Florence joined Strauss toward the end of 2008, at the height of the financial crisis of that time, after serving as CEO of Starhome. Shahar brought with him management experience combined with innovative and creative approach to the position of CFO.
Shahar's managerial and professional span of control includes, in addition to the classic structure of a finance division, the information systems, business development, investor relations and real estate. Shahar has a considerable share in Strauss Group's successful creation of long-term growth via competitive advantages. His contribution is evident in all areas, steering the partnership in the coffee business and its business development activities, and leading a significant change in the company's information systems which culminated in the computerization of its innovative new logistics center. Shahar was able to utilize innovative financial tools that resulted in significantly-lower financing costs compared to similar companies.
For the contribution of Shahar Florence to Strauss Group in Israel and around the world, for his impressive professional achievements over the years, for his unique share in value creation in the Group and for being an exemplary CFO who steers innovative, wide-scale perceptions regarding his job. In recognition of all of the above, we hereby grant Shahar Florence the 2014 Excellence Award of The CFO's Forum."
Gadi Lesin, President and CEO of Strauss Group, said: "I attach great importance to the recognition of distinguished public institutions in the achievements of our managers. I regard this as an Excellence Award granted to the organization at large, and I am proud of Shahar for the public recognition in his numerous accomplishments."