back
Knesset Chairman Award to the Jasmine nonprofit organization, headed by Ofra Strauss
from news and media
04/01/17
Last week, the Knesset Chairman Award was presented to Jasmine, a not-for-profit organization headed by Ofra Strauss. The award was presented to Jasmine CEO and founder, Ms. Kiram Baloum, for the nonprofit's activities to advance the creation of a society of respect, patience and tolerance.
Jasmine was established in 2006 with the goal of working to advance women small and medium business owners across all sectors of Israeli society, and for women's inclusion in senior executive positions in the Israeli economy.
At the last Jasmine Conference, which was attended by a diverse cross-section of women owners of small and medium businesses, the information presented on women's participation in the Israeli business world gave rise to concern: in 2016, only 4% of small and medium businesses in Israel were exclusively owned by women.
Jasmine Chair, Ms. Ofra Strauss:
"Small and medium businesses account for over 98% of businesses in Israel and employ over 50% of employees in the business sector, but despite their centrality in the economy, their path to success is rife with challenges and barriers. In the case of women-owned businesses the difficulties are far greater, and they without a doubt constitute untapped potential that will enable women to play an active part in the Israeli economy. Consequently, I believe that an economy is measured in how it treats small and medium businesses that are owned by women, because here it integrates two key elements in the economy. Countries that have succeeded in bolstering these businesses and determining regular procurement from them have shown a significant improvement in metrics."
Receipt of the Knesset Chairman Award represents a milestone in the great volume of activity undertaken by Jasmine with the aim of helping to further women from all sectors in filling senior positions in the Israeli economy, and to encourage women who aspire to be independent and start a business of their own.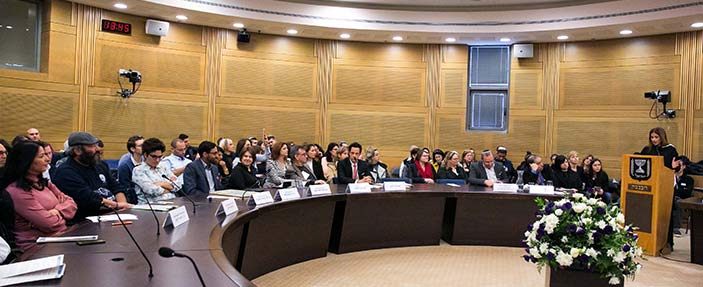 Kiram Baloum, Jasmine's CEO and founder, said at the award ceremony:
"Jasmine proves, in practical terms, the great advantage inherent in the model of combining forces, of cooperation between Jews and Arabs, of the possibility of excelling and being a leader, even in the periphery.
Cooperation and shared effort are, in themselves, a powerful, efficient lever and growth driver. Collaborations strengthen not only the economic foundations of the business, but also nurture, empower and better the human capital, or, in plain simple Hebrew, people. They establish a base for building a business model that strengthens women and the economy alike. It attests to the strength, essentiality and considerable impact of women on society and on the economy".