back
Listen. Implement. Improve.
from Corporate Responsibility, Israel
18/07/16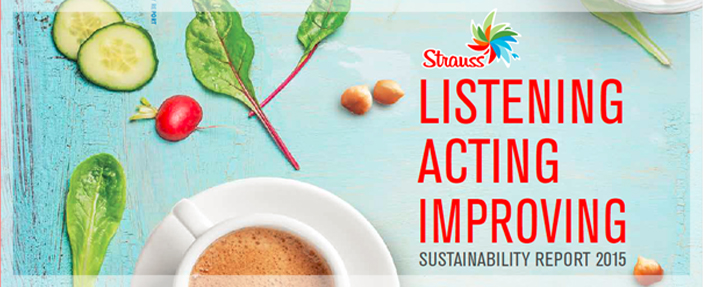 Strauss Group's 2015 Sustainability Report
This is our ninth annual Sustainability Report, and it describes our attitude and approach to sustainability and the major actions we took in 2015 for the advancement of responsible, sustainable practices in our global businesses, in relation to our undertakings and strategic goals for 2020.
view the full Sustainability Report 2015 >
The data in this report refer to the 2015 calendar year unless stated otherwise. Our last report, published in 2015, discussed the figures for 2014. The contents for this/that report were defined by our materiality assessment, which was revised in 2014, and by our 2020 sustainability strategy. Both the materiality assessment and the sustainability strategy were developed using feedback and insights from our stakeholders, our employees, consumers, and a broad range of food and health experts.
The Sustainability Report is based on the sustainability strategy approved by the Group a year ago and is grounded in mapping and objectives in six substantive spheres of influence:
Promotion of a healthy lifestyle: Improve the quality of life of our employees and consumers.
Product transparency and responsible marketing practices: Help consumers make informed choices.
Reduction of resource consumption and waste: Protect the planet.
Ethical supply chain: Social and environmental risk management.
Diversity in everything we do: Support innovation, creativity, and opportunities for everyone.
Involvement, engagement and investment in our employees: Tailor the organization to accomplishing our sustainability objectives.
The contents of this report were defined according to the global reporting rules established by the Global Reporting Initiative (GRI), on the most substantive and broadest reporting level – G4-Core – i.e. extensively reporting on material issues. Practically speaking, this means that for each material issue identified, the organization is required to make a general disclosure of management's approach and to provide at least one indicator for each material aspect.
Materiality: The topics that are the most important for our business growth in the long term and are the most important to our stakeholders.
Stakeholder inclusiveness: Response to the expectations and topics that our stakeholders care about most.
The sustainability context: Presentation of our performance in the wider context of sustainability.
Completeness: Inclusion of all information that reflects significant economic impacts to enable our stakeholders to assess our performance.

This report does not undergo an external assessment or audit; we rely on the completeness of our examination and on our robust internal controls, which we apply to data collection processes. We also avail ourselves of consultants and reporting experts, who help us in preparing the report and review our data before they are published.
More information about Strauss Group and its companies is available on our global website at http://www.strauss-group.com.
Thank you for taking an interest in this report. Your feedback and recommendations will be greatly appreciated for our future reports. Please contact our Global Sustainability Director, Daniela Prusky-Sion, at daniela.sion@strauss-group.com.