back
Ofra Strauss, Chairperson of Strauss Group, Appeared at the Annual AIPAC Conference
from news and media, Israel ,Strauss Israel
04/03/14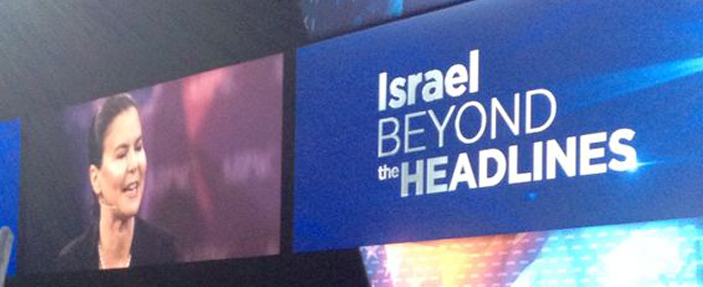 Ofra Strauss, Chairperson of Strauss Group and Chairman of the Israel-America Chamber of Commerce, appeared in Washington before 14,000 participants at the annual AIPAC  conference .
This conference, a key event of the organization that works to advance the state of Israel in the U.S., included speakers such as senior Israeli government officials and heads of the U.S. administration. In her speech entitled "Israel Beyond the Headlines", Ofra Strauss addressed a series of issues including U.S-Israeli relations, regional processes and the story of Strauss Group .
 
The family story
My family story is the story of parents who made sure their children would have something to eat, using the most basic products. Today, everyone in the U.S.  is talking about hummus and how healthy it is. This is proof that there are things in Israel that can succeed in the world simply because they are good."
 
About U.S.-Israel trade relations
The establishment of Sabra's dips and spreads plant in Virginia contributed to job creation in the U.S.. With the establishment of the second plant, the U.S. will become the world's largest hummus manufacturer .
On the other end, the Israeli Chamber of Commerce encourages investment in Israel. The government helps and makes things easier for American businesses wishing to come to Israel. People invest in Israeli companies because of their innovation and entrepreneurial spirit. I invite all the big corporations to set up R&D centers in Israel.
About foodtech
Israel has the potential to become a superpower of food technology. Technology and the creative mind of talented people can develop the category which will help create food for more populations around the world.
About the political process
Ofra Strauss addressed the political process as well: The U.S. administration is working hard on the process with the Palestinians. If there is an opportunity here, we must grab it so that we may tell our children that we didn't miss any opportunity.
When my father retired, he told me that he had built a large Dairy in the north so that we can manufacture the products and sell them to Israel's neighbors as well. It can happen. It can be the future of Israel.