back
Ofra Strauss in a Corporate Responsibility Conference in San Francisco- About the Leadership Challenge in a Social-Driven Era
from news and media, Israel
01/01/70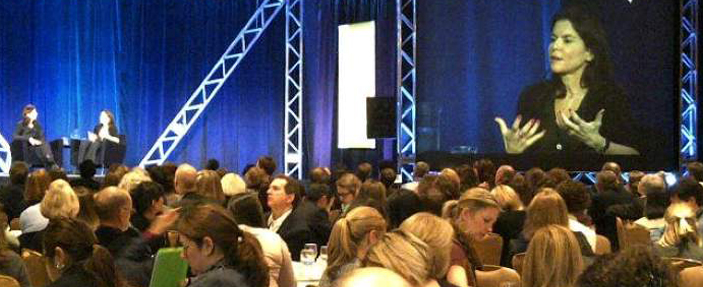 Last Thursday (November 3), Ofra Strauss, Chairperson of Strauss Group, delivered a speech in the International BSR conference in San Francisco, BSR
an annual conference that engages in corporate responsibility issues and draws hundreds of large U.S. companies.
In the spirit of this year's conference, entitled "Redefining Business Leadership", Ofra's speech highlighted the responsibility that companies should assume in terms of direct dialogue with their stakeholders, and was met with standing ovation, praise and mentions in the media and social networks.
In her speech entitled "After 60 Good Years – Thoughts About Business Leadership in a Changing World", Ofra Strauss discussed current international changes such as the economic crisis, social-economic protests around the world, and the loss of consumers' trust in business companies. She reviewed the changing business world and the challenge to rebuild consumers' trust with a new leadership. According to Strauss, such leadership compels business fairness, transparent relationships with stakeholders, and company actions that exceed the mere provisions of the law, assuming 360˚ responsibility across all spheres of activity.
Ofra Strauss emphasized the fact that we live in the age when attentiveness is a key factor. We must constantly be attentive and listen to consumers, customers, suppliers, employees and competitors. This is the only way to truly understand the needs and desires of diverse stakeholders in every business. This is, also, the only way to truly understand how a company should plan its activities and improve its business course. According to Strauss, restoring consumers' trust is a condition for long-term sustainability of every business.
Among her numerous messages, which were echoed in social networks, one message stood out with the largest number of references: "The burden of proof for being good lies with us, the business leaders. Globalization means that 'business strategy' and 'business ethics' cannot be treated as separate entities."