back
PepsiCo and Strauss launch the global expansion of their dips and spreads business
from news and media ,Strauss Israel
12/06/12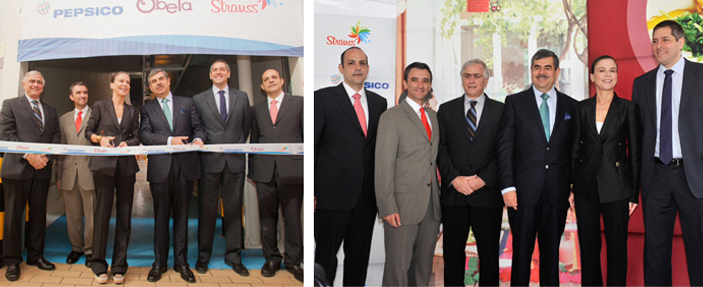 Joint venture builds on Sabra, the successful dips and spreads business between the two companies in the U.S. market
Designed to capitalize on growing consumer market for hummus and other nutritious products
MEXICO CITY, June 12th, 2012 – PepsiCo, Inc. and Strauss Group today introduced Obela®, a fresh, refrigerated dips and spreads brand that will be launched in Mexico. The brand will be launching varieties of hummus that meet growing consumer demand for health and wellness options. Mexico is the first market where the brand will be launched under the international joint venture, which is setting out to captivate the world's consumers with a variety of fresh, delicious and wholesome dips and spreads, based on natural ingredients.
"We are constantly looking for new opportunities to grow our business by offering a wide-range of products, including great-tasting healthier choices," said Pedro Padierna, president of PepsiCo Mexico. "Strauss brings unique capabilities and expertise in fresh foods that, when combined with PepsiCo's go-to-market and brand building strengths, will position us well to give consumers a great new line of products that complements our existing portfolio in Mexico."
"The excellent partnership between PepsiCo and Strauss will enable us to expand our global reach and improve more people's lives. PepsiCo's capabilities, global infrastructure and excellence combined with Strauss's knowledge, innovation and expertise in the fresh food domain, will result in an international company whose products meet the daily needs of consumers in Mexico and other countries," said Ofra Strauss, Chairperson of Strauss Group.
Since 2008, PepsiCo and Strauss have operated a successful joint venture in the United States and Canadacalled Sabra Dipping Company. Sabra is the top-selling brand of hummus in the United States and is the leader in the chilled dips and spreads category. The companies expanded their relationship in 2011 through a joint venture focused on markets outside North America, starting in Mexico. The group is working to identify new opportunities to continue Obela's expansion in the near future.
The Obela brand is born from the communication concept "the flavors that bring the world together;". It's a voyage of discovery of new refrigerated  dips and spreads that will become part of the food experience all over the world, as part of a meal, as a snack and as a nutritious, wholesome food. Obela will connect the diversities of people, tastes, culture and eating experiences.
For the launch in Mexico, some local flavors were used to give consumers a multicultural experience in every taste. Obela is launching three varieties of hummus such as natural taste, chipotle and red pepper.
Obela products will be available at retail chains throughout Mexico, including Walmart, Soriana, Chedraui and Comexa. The joint venture will invest over $10 million dollars in Mexico to help drive the successful launch of the Obela® business.
"There is a significant growth opportunity in Mexico in the dips and spreads category, beginning with current hummus consumers," added Gustavo Salas, Obela's general director in Mexico. "Our goal is to make sure that at least one fifth of households in Mexico enjoy and share our products with family and friends, thus turning any moment into a very special occasion."
The Obela launch in the country reaffirms PepsiCo's commitment to investing and growing its business inMexico. In 2009, PepsiCo announced plans to invest $3 billion dollars over the next five years.
About PepsiCo
PepsiCo is a global food and beverage leader with net revenues of more than $65 billion and a product portfolio that includes 22 brands that generate more than $1 billion each in annual retail sales. Our main businesses – Quaker, Tropicana, Gatorade, Frito-Lay and Pepsi-Cola – make hundreds of enjoyable foods and beverages that are loved throughout the world. PepsiCo's people are united by our unique commitment to sustainable growth by investing in a healthier future for people and our planet, which we believe also means a more successful future for PepsiCo. We call this commitment Performance with Purpose: PepsiCo's promise to provide a wide range of foods and beverages for local tastes; to find innovative ways to minimize our impact on the environment by conserving energy and water and reducing packaging volume; to provide a great workplace for our associates; and to respect, support and invest in the local communities where we operate. For more information, please visit www.pepsico.com
PepsiCo México
PepsiCo Mexico is one of the largest consumer product companies in the country, with revenues in Mexicoof 4.3 billion dollars in 2011. PepsiCo Mexico comprises the Sabritas, Sonric's –Alegro‑, Gamesa-Quaker, Pepsi and Gatorade business units. Our company generates more than 55,000 direct and over 790,000 indirect jobs in Mexico, thanks to its presence in all the States of the Mexican Republic. PepsiCo Mexicototals 433 distribution centers, 21,000 sales routes and 49 production plants. PepsiCo products have been sold in Mexico since 1907. For more information, please go to www.pepsico.com.mx and follows us onTwitter at: @PepsiCoMex
About Strauss-Group
Strauss Group, Israel's second-largest food & beverages company, is an international corporation comprised of five companies: Strauss Israel, Strauss Coffee, Strauss Water, Max Brenner and PepsiCo-Strauss Fresh Dips & Spreads. Strauss has approximately 14,000 employees operating twenty-six production sites in eighteen countries around the world. Among them: U.S., China, U.K., Australia, Holland,Switzerland, Germany, Russia, Poland, Romania, Brazil and more. It is a leading player in coffee markets in Central and Eastern Europe, Brazil and Israel for Roast & Ground (R&G) coffee and other coffee related products and services. The Group has partnerships with leading multinationals such as Danone, PepsiCo, the private equity investment fund TPG Capital, Haier and more recently Virgin Green Fund. In the last eight years, Strauss group has consistently achieved growth, having generated approximately $2.2 billion in annual revenue in 2011 of which 48.8 percent came from international activities.