back
Strauss Adriatic Wins Prestigious Innovation Award
from news and media
01/01/70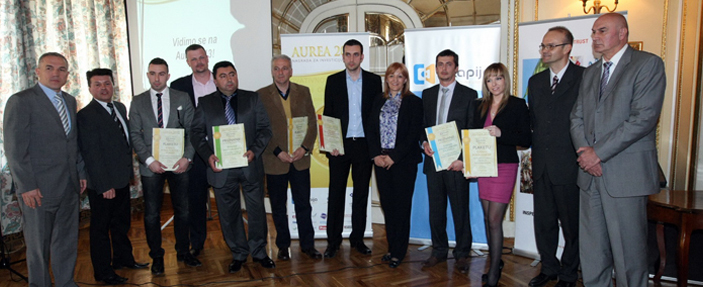 Unique project of heating using coffee chaff briquettes won the special award for innovativeness Aurea 2012, granted by business portal "eKapija"
Belgrade, March 28, 2012 – The project of heating using coffee chaff briquettes of Strauss Adriatic has won the prestigious Aurea 2012 Award of business portal "eKapija" in the innovativeness category. Using the extraordinary production waste as a source for producing heating energy, this project fulfilled the key criteria for winning the award. The author of the project is Nemanja Mašić, an engineer, Maintenance Manager of Strauss Adriatic.    
"I am grateful and proud of the fact that the selection jury and readers of portal "eKapija" have recognised the importance of this project and rewarded it. First of all I am grateful to my colleagues from Strauss Adriatic, who supported my idea and also to the holding company, Strauss Group from Israel, which provided funds for the project execution. This award represents great honor and support in continuing to adjust our production processes to the living environment. It also encourages other companies to find new ways of recycling production waste," said Nemanja Mašić.
The project of heating using coffee chaff briquettes is a unique project in the region and is based on using waste from coffee processing, the so-called coffee chaff, for heating 6000m2 of the production and administrative facilities of Strauss Adriatic. This company, renowned for the Doncafé brand and coffee products, generates around 140t of coffee chaff annually. Searching for ways to reuse that waste, it was discovered that its heating power was exceptionally high, as confirmed by testing in the labs of the Vinča Institute and the Faculty of Mechanical Engineering. This discovery motivated the project of a heating room using coffee chaff briquettes. As the annual volume of chaff is sufficient for around three months of heating, the heating room, in cooperation with the Innovation Centre of the Faculty of mechanical Engineering and Professor Mirko Komatina, is designed to use wood briquettes as well.
This type of heating brings numerous advantages. As a classic example of biomass, coffee chaff releases products of burning which are fully environmentally friendly and cause no pollution effect. In that manner, the total annual CO2 emission from Strauss Adriatic will be reduced by 14%, or 341t. In addition to the environmental aspect, this project saves between EUR65,000 to EUR90,000 annually. As a result, the investment approved at the 8th Operational Meeting of Strauss Group in Israel will provide return in less than a year and a half. This type of heating, which makes Strauss Adriatic independent from the energy market, was put in use on November 15, 2011, and after outstanding results achieved in Serbia, it will be applied in other countries where Strauss Group operates as well.