back
Strauss Group Launches Corporate Brand Campaign
from news and media, Israel ,Strauss Israel
01/01/70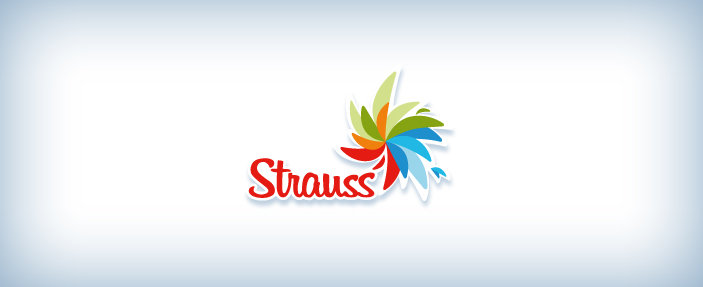 Alain Loss, CMO of Strauss Group, Gadi Lesin, CEO of Strauss Israel and Irit Speisman, Marketing Communications and Corporate Brand Manager, today announced the implementation of another step in the assimilation of the company's new identity: Launching the Strauss Group corporate brand campaign
with the message "It's amazing what you can create from the simple things in life"
Alain Loss, CMO of Strauss Group, Gadi Lesin, CEO of Strauss Israel and Irit Speisman, Marketing Communications and Corporate Brand Manager, today announced the implementation of another step in the assimilation of the company's new identity:
Launching the Strauss Group corporate brand campaign
with the message "It's amazing what you can create from the simple things in life"
The campaign was produced by Shalmor Avnun Amichai Y&R and by the international artist Hanoch Piven
The campaign will air on December 8th  on T.V., the press, the internet, billboards, signs on company trucks and points of sale.
Total investment in the campaign: NIS 5 million.
Alain Loss, CMO of Strauss Group, said today: "It is a milestone as it is the first time Strauss is launching such a  corporate campaign. We want to interact differently with our consumers, not just through our many brands and products, but also through what we consider one of our primary assets, our company brand.
The purpose of this campaign is to develop a holistic Strauss message and bind together our wide array and unique richness of products and brands, addressing the basic needs of consumers for Health & Wellness, Fun & Indulgence, and also coffee.
The campaign builds on a fundamental human truth, namely that the little things in life can generate amazement, delight and wonder.
At Strauss, we are deeply convinced that we can create wonder out of the basics in life.  This message also transcends the boundaries of Israel. It is rooted in the story of our company worldwide (from Sabra salads in North America to our Doncafé roast and ground coffee brand in Eastern Europe.)
To convey this message, we looked for a simple, yet powerful idea, which communicates the notion that basics, creatively and expertly combined together, create something wonderful. 
Our message pertains to the variety of our products, but also to the way in which we do things and to the feeling we create through these daily encounters with our products."
Gadi Lesin, CEO of Strauss Israel, said today: "This advertising move adds another layer to a series of moves we started conducting in 2008 and intend to pursue in 2009: one company look with one cohesive brand portfolio on the shelf.
We believe that the message presented by Strauss, which is relevant at all times, is becoming even more valid in view of recent events. This is a time when we should all go back to basics, to the meaningful things in life which can help us design new contents and create new things.
Alongside this campaign, we launched, in recent weeks, new packs for Danoe products and for the Elite brand, bearing a new look which is connected to our corporate brand language. We will continue to display our new look on cheeses, dairy desserts, freshly-cut vegetables and chilled pastas under a pack-replacement process that will be completed by the end of 2009."
Irit Speisman, VP Marketing Communications, said today: " To express the big idea, we have chosen- together with Shalmor, Avnun, Amichai Y&R- the internationally-acclaimed artist Hanoch Piven. Known for his unique artistic creation, Piven uses basic products and turns them into something new, big and surprising. Piven's artistic perception fits our values and conviction at Strauss, and so teaming up with him was quite natural: we have effectively combined art with business.
Piven created a set of characters comprised of our raw materials, products and packs, adding his own unique artistic statement to them. This set of campaign characters expresses our food & beverage worlds – Fun & Indulgence, Health & Wellness and Coffee – illustrating that together they can create various and diversified combinations, a 'whole greater than the sum of its parts' that generates a wonderful feeling.
We chose a campaign that projects a sense of optimism, creativity, warmth, humor, simplicity and accessibility, presenting our unique identity-who we are and how we operate- while showcasing a wide array of our products. As of today, the Strauss closing segment will appear in all company brand commercials.
We are also launching a new company website that will provide up-to-date information about our activities in Israel and the world, opening a new channel for direct dialogue with our stakeholders and consumers."
About the campaign
Strauss Group will be airing tomorrow its new Strauss brand campaign. The campaign, created by Shalmor Avnun Amichai Y&R with the internationally-acclaimed artist Hanoch Piven, will include four 40-seconds commercials.
Credits:
Company website – A new website was built with Netvision Applications Ltd. at a total investment of NIS 1 million. At this stage, it contains various consumer information items, and later on it will open an interactive communication channel with consumers.
Files available for download