back
The Strauss Institute for Promoting a Healthy Lifestyle: Annual Conference Marked by the "1,000 Day Nutrition"
from news and media, Israel
14/11/13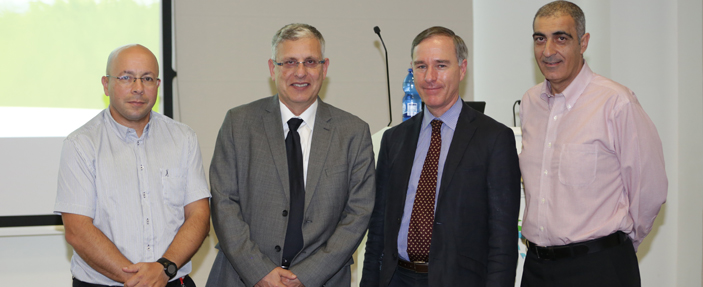 Yesterday we held the annual Strauss Institute scientific conference for Promoting a Healthy Lifestyle, with the participation of KOL's in nutrition and health.
This year, the conference addressed "1,000 Day Nutrition", which focuses on the windows of opportunity that open in the pre-natal period, during pregnancy and the post-natal period. Nutrition during these periods has significant short and long term impact on the health of both the mother and newborn for their entire life.
During the conference we launched innovative digital tools to promote a healthy lifestyle- "Plate" for adults and the "Meal from the Movies" game for children. These new tools can be accessed through the Strauss Institute website, which was also launched at the conference.                                   
The conference held a scientific workshop on "1,000 Day Nutrition." It included various lectures by experts in this field. Prof. Raanan Shamir, President of Strauss Institute and global Danone Institute opened the conference and presented the field of 1,000 Day Nutrition. Prof. Keith Godfrey, professor of Epidemiology and Human Development at the University of Southampton in England, and a global research pioneer in this field, provided extensive overview of research and new scientific insights in this field. Prof. Yariv Yogev, Director of Delivery Rooms and Obstetrics Assessment at Schneider hospital for Women, explained the metabolic changes associated with glucose balance and their effect on the fetus during pregnancy. Dr. Hagit Hochner, School of Public Health and Medicine at Hadassah hospital, expanded on exposures in early life and cardio-metabolic risk factors among youngsters and adults. And Ms. Dana Tal, M.Sc. Clinical Dietitian for children at Sourasky medical Center, provided practical guidelines for mother and newborn nutrition during those periods.
With over 15 years of operation, the Strauss Institute supports promising nutrition researchers through research grants, holds scientific conferences and develops tools to promote a healthy lifestyle. Under this strategy, the Strauss Institute provides research grants to students in the fields of food and nutrition, and launches innovative and experiential tools to promote a healthy lifestyle.

Strauss Institute website: www.strauss-institute.com