back
Virgin Strauss Water set to revolutionise how water is consumed in British homes
from news and media ,Water, Israel ,Strauss Israel
30/05/12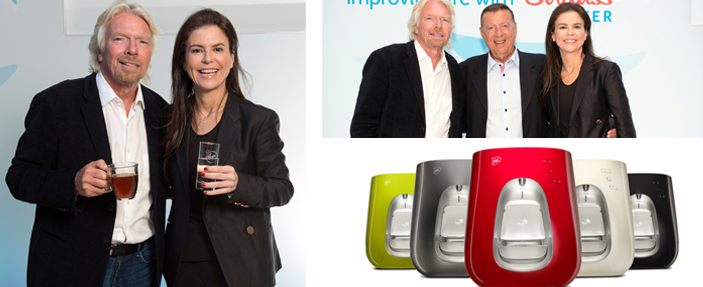 Virgin Group and Strauss Water come together to unveil new drinking water solution branded: Virgin Pure, improving life with Strauss Water
Richard Branson, founder of Virgin, and Ofra Strauss, Chairperson of Strauss Group today revealed plans to transform the way Britain drinks water at home, with the launch of Virgin Pure, improving life with Strauss Water.
Virgin Strauss Water will offer a range of purified water solutions that will change the way many families drink water at home. Currently 20% of UK households choose bottled water as their primary source of drinking water and another 20% use filter jugs.  This represents ten million British households who already drink bottled or treated water over standard tap water.
With this market potential of over 10 million British households, the new partnership offers the best solution for people who are looking for a convenient hot and cold water solution. Plumbed directly into the water mains, the T6 and T7 products purify tap water, dispensing pure, great tasting chilled or boiling water at the touch of a button.
The stylish, sleek, counter-top units eliminate the need for bottled water, filter jugs and even the traditional kettle.
Branson commented today, "I love businesses that help to improve our way of life and Virgin Pure's T7 does just that by encouraging people to drink more water in an efficient way.  Pure, chilled and boiling drinking water at the touch of a button means no more lugging bottles home, waiting for filter jugs to trickle through or kettles to boil for that great cup of tea."
Ofra Strauss added "Strauss Group is committed to improving people's lives. Our new partnership with Virgin bears exceptional strategic significance as Strauss Water's knowledge, expertise and technology partner well with Virgin's excellent understanding and response to consumers' needs. This connection will result in the establishment of a company that specializes in providing pure, safe and tasty drinking water to consumers in the UK and additional countries."
Virgin Pure units are available from www.virgin-pure.com from today.
Notes to Editors:
The Virgin Pure T6 and T7 units are priced at £299 and £379 respectively plus a WaterClub subscription, which covers a full guarantee, replacement of filters and UV lamps, as well as online and telephone support. The T6 and T7 are available exclusively from www.virgin-pure.com
About Virgin Group:
Virgin Group ('Virgin') is a leading international investment group and one of the world's most recognized and respected brands. Conceived in 1970 by Sir Richard Branson, Virgin has gone on to grow successful businesses in sectors ranging from transport, mobile telephony, financial services, leisure, music, renewables and health & wellness. Virgin employs approximately 50,000 people worldwide and operates in 35 countries. Global branded revenues in 2011 exceeded £13 billion ($21bn).
About Strauss Group:
Strauss Group is a multinational food and beverage company headquartered in Israel with 5 core businesses: Strauss Israel (the second largest Food and Beverage Company in Israel), Strauss Coffee, PepsiCo-Strauss Fresh Dips & Spreads, Max Brenner chocolate-bars chain and Strauss Water. The company operates in 18 countries and employs 14,000 people globally. Traded on the Tel Aviv Index, Strauss Group holds a high credit rating of AA+ and had net revenues in 2011 of $2.2 billion. Strauss Group has strategic partnerships with leading multinational companies including: PepsiCo, Frito-Lay, Danone, Haier and TPG Capital.
About Strauss Water
Strauss Water is a world leader in providing quality drinking water. Engaged in the development, production and marketing of drinking water purification, filtering, heating and cooling systems, Strauss Water provides in-home solutions, such as the T6, T7 and the WaterMaker line (currently sold in China) for quality hot and cold water. Strauss Water's products are sold in over 10 countries including China, Israel and the UK. Strauss Water's team of scientists creates lab-produced technological innovations in collaboration with academic institutions, which are translated into breakthrough quality water purification and treatment solutions. As a global water expert, the company has multiple patents in water treatment and purification.
Strauss Water holds numerous quality assurance standards including the American Water Quality Association (WQA) Gold Seal, The British WRAS Standard, the European Union Standard (CE), the Service Quality Standard (ISO 9000), and the ROHS Environmental Quality Standard. Strauss Water's business model ensures customers receive long term high level service – guaranteeing the supply of replaceables such as filters and UV lamps – making sure the water they consume is always top quality and safe.