Tapuchips
It's natural  you won't be able to control yourselves!
You know that moment when someone opens a bag of Tapuchips next to you? That pleasant rustling sound, the tantalizing smell of thin, salted potato slices, the sound of teeth biting into that oh-so-crispy chip, and your saliva glands just can't help starting to work… of course you can't control yourselves!
When you have a yen for a snack, Tapuchips are perfect.
with no artificial coloring or preservatives… Just make sure you hurry, because the moment that bag is opened it won't take long before all you're left with are a few crumbs…
Tapuchips Kids are a baked – not fried – snack. They contain no preservatives or artificial coloring and are manufactured especially for children.
All Tapuchips products (excluding Tapuchips Kids) are manufactured on a special, gluten-free production line.
Product Family
What happens when potatoes and salt meet? That classic taste that nothing can beat! Natural Flavor Tapuchips prove that sometimes less is much, much more (when it comes to the taste): thin potato slices with salt and an unforgettable taste that everyone loves. The natural flavor of Tapuchips is available in both the classic version and sticks version.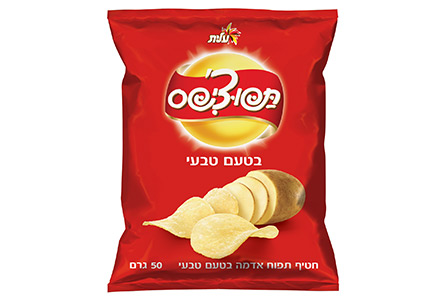 History
1991
It all began with a potato…
In the early nineteen-nineties we bought the Tapud potato chips production plant in Sha'ar Hanegev, while simultaneously investing in the development of a special, high-quality potato variety that would be grown in Israel and would be especially suited to the production of potato chips. One year later, the first Tapuchips snack was manufactured and the inauguration ceremony of the plant in Sha'ar Hanegev was held.
1997
Wow, Tapuchips on TV!
For the first time, we launched an advertising campaign for Tapuchips. The slogan we chose was "Always delicious, always right". Truth is, we were right. By the end of the year Tapuchips had achieved amazing sales, gaining a 72% share of the potato chips market in Israel.
1999
And now for something new
In 1999 we launched Tapuchips in new, exciting flavors: Oregano and Grill. But that wasn't all – after the launch we decided to revamp the classic snack and renewed the Natural Flavor Tapuchips packaging
2003
Mediterranean Tapuchips
Launch of a new series, "Mediterranean Tapuchips", in three flavors: Tomato & Basil, Salt & Pepper and Herbs, made of natural potatoes with olive oil.
2004
Transformation!
Tapuchips is rebranded. The packaging was redesigned to emphasize the product's naturalness, and we also enlarged the product family with new flavors: Pizza and Mexican Extra Crunchy. The move was accompanied by a new campaign that included TV clips and billboards with the message "Control Yourself!" which demonstrated all the crazy things people will do for Tapuchips…
2005
A year full of flavor
For the first time, potato chips shaped like French fries were launched, in a cardboard pack with a sachet of ketchup. We also enlarged the Crunch Tapuchips series, a zigzag crinkle cut chip delivering a special eating experience, with new flavors: Crunch Grill and Crunch Natural Flavor.
2008
Tapuchips with Olive Oil
In 2008 we continued to spearhead innovation in the salty snack category by targeting an older audience with a new, sophisticated product: Tapuchips made with 100% olive oil, a winning combination of perfect taste, texture and crispiness, using high-quality raw materials.
2009
A new Tapuchips is born
After three years in development, we launched Tapuchips Kids, a baked – not fried – snack especially for children, with no added preservatives or artificial food coloring. One year later the product won the 2010 Product of the Year Award in the Innovation Category and then, in 2011 as well, when it was joined by another children's product shaped like chip sticks. In the same year we also launched "Kartoshkes", an 8 episode comic web series, which ran for two months on the brand's official YouTube channel.
2011
The Chef's Series
In 2011 a new series was launched in collaboration with Master Chef Eyal Shani, which included two new, surprising flavors – Balsamic Vinegar & Onion Jam, and Sour Cream & Forest Mushrooms.
FAQ
How were potato chips invented?
Potato chips were invented in a New York restaurant in 1853. According to the legend, one day a stationmaster visited the restaurant and ordered French fries. He found them too thick for his liking and asked the chef to prepare a new order. The chef decided to have a little fun and rile the guest: he sliced the potatoes paper-thin and deep-fried them until they were too crisp to be skewered with a fork. However, the plan backfired – the guest loved them. Soon everyone began ordering the new fries, and the rest is history.
How are Tapuchips made?
It all starts with the potatoes. First, the potato seeds are planted. When the potatoes ripen, they are transported to the factory where they are rinsed repeatedly and placed on a conveyor belt, which carries them to the slicer. The potatoes are sliced very thinly and then rinsed again. The slices are slowly fried in boiling oil until the perfect color, crispiness, smell and taste are obtained. A moment before the end of the frying process the slices are sprinkled with salt and spices (cream, chives, garlic and dill) and collected by the packaging machine into a sealed bag, untouched by hand.
Why did you stop making my favorite flavor?
As the saying goes, "Every ending is the beginning of something new". At Tapuchips, we're always trying to give our consumers something new, to keep their taste buds interested and make sure there's never a dull moment. That's why we occasionally try to make products with new, surprising flavors and remove others that people may have grown tired of. But never fear – we make sure to listen to your tummies, and if you really miss a certain flavor we'll be sure to bring it back!
Why is there so much air in a bag of Tapuchips?
There are three main reasons why you think the bag isn't full: 1. The weight of the chips in the bag is constant and noted on the pack. The number of units in the pack is determined by the concentration of solids in the potato: when the potato density is low there are more chips, and each chip weighs less. When the potato density is high, there are less chips and each one of them weighs more. 2. Because Tapuchips are a naturally grown product and agricultural crops vary from one season to the next, they are also influenced by the size of the potatoes. If the potatoes are relatively small, the slices will be smaller and will sink to the bottom of the bag, thus creating the impression that the bag is "empty". By contrast, if the potatoes are big, the slices will be bigger and give the feeling that the bag is full. 3. As you have probably noticed, Tapuchips are very thin and crispy. The air added to the bag is designed to protect the product from being damaged during transportation and handling (trucks, price stickers, arrangement on the shelf, etc.) so that you won't end up with a bag full of crumbs.
What kinds of potatoes do you use to make Tapuchips?
We use potatoes with skin that is light brown to yellowish, and yellowish to yellow on the inside of the bulb. The potato seeds are imported from Europe, and the potatoes grown in Israel.
Why are some of the chips darker than others?
While the natural potatoes are stored, the starch they contain decomposes naturally and is converted into sugar. During frying, the color of the sugar turns brown. This is not a defect – the taste and texture are typical of the product.
How many Tapuchips flavors are there?
Today, Tapuchips are available in 7 different flavors, from Natural Flavor classic Tapuchips to sophisticated, surprising flavors such as Grill and Mexican – all tasty, all crispy, and all gluten-free.