Product Innovation
Leveraging our 'start-up-nation' capabilities, we work to find solutions to food industry challenges    @StraussGroup  #agri-tech #innovation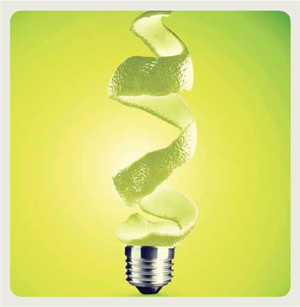 Population growth as an opportunity: As the population of the world heads toward 9 billion in 2030, and global food demand is expected to double, boundless opportunities exist for food manufacturers to fill the projected gaps in food supply to meet these growing needs and support food and nutritional security in an equitable way around the globe. Not only is the quantity of food becoming a critical focus to feed the world's populations, the quality, safety, nutritional  composition and health-related added-value benefits are also key to meeting changing consumption and health needs for improved quality of life.
Food suppliers are faced with a range of opportunities: We have the possibilities to create innovative food products, including new functional foods in unique delivery formats, using cutting-edge food technologies and efficient supply chain networks to meet the different health and wellbeing needs of our global community. Israel is often referred to as the "start-up nation" due to the rapid pace of new technology development, and has become known for advances in agri-tech, bio-tech and clean-tech. Creativity also abounds in the food sector and we see similar opportunity for Israeli innovators to become food-tech leaders and tap into this potential and turn it into real, sustainable benefit for consumers. We are a high-tech, agro-tech, bio-tech and clean-tech nation. We also believe in Israel becoming a "food-tech" leader.
Driving Innovation: We are driven by a responsibility to contribute to meeting the food gap, not only by continuing to deliver our current range of nutritious food products, but also through innovative food technologies for sustainable, health-enhancing food options. We always seek the most advanced technologies available in the food industry to drive our own product development, but also, we see our responsibility, as a major food supplier, to encourage next-generation technologies which solve major food industry challenges with a reach that is broader than the populations we serve directly with our food brands.  This is no easy task. Innovation is not always nicely packaged and available exactly when we want it. It takes many intelligent and creative minds to deliver innovation, and not all of these are available in our company (although there are many!).  It takes massive investment in time and money to innovate, and our resources are limited (although we invest an average of over U.S. $ 3million each year in product innovation around the globe), so we need to augment our resources to drive significant change. Also, there are always many more innovation ideas than are commercially viable, and we need a way of ensuring we focus on the projects which have the most promising potential to meet food needs on a realistic timing to address new opportunities.
We strive to "accelerate the development of the Israeli Food Tech Community" @StraussGroup  #alfastrauss #entrepreneurship
The Alpha Strauss initiative for food tech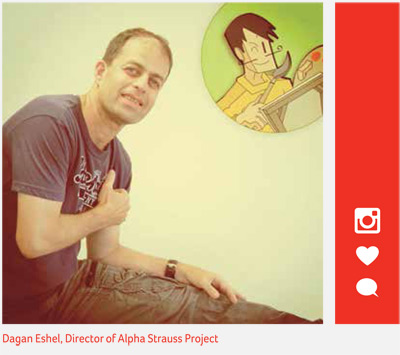 Officially launched in March 2012, after an incubation period of almost one year, the Alpha Strauss initiative attempts to address these challenges while realizing significant opportunities both for Strauss, you, our consumers, and the food industry in general. With a vision to "accelerate the development of the Israeli Food Tech Community", Alpha Strauss is a community for inventors, entrepreneurs, nutrition specialists and food scientists in Israel to come together to solve key food industry challenges by using and leveraging the local start-up community with its innovative minds and affinity for disruptive change. The community is nurtured by Strauss, and we assist innovators by providing access to knowledge generated over decades in our extensive innovation and development teams, financial support for feasibility assessments, access to pilot plant equipment for performing trial runs, access to reams of consumer research to help target the innovation to consumer preferences and commercial and marketing advice for developing a business plan and go-to-market approach. This collaboration is beneficial to Strauss, as we have access to new technology ahead of the market, which enables us to deliver early benefits to you.
Alpha Strauss provides us with a platform to become a partner in the development of new food technologies, many of which would not progress without the active and involved support of a large company with food production experience, established processes and extensive facilities and a certain level of available financing.  Forming a bridge between entrepreneurs, with their fresh and exciting ideas, and the food industry, Alpha Strauss advances the food tech sector in Israel and beyond, as technologies are commercialized for use by any food manufacturer and not only Strauss. The Alpha Strauss team is led by a group of high-level Strauss executives including technology, nutrition and business development specialists.
Areas
Water
Raw Materials
Ingredients
Process
Packaging
Technologies
Productivity
Technologies
that improve
source water
Agrotech for low cost
& high quality raw
materials
Processes that
maintain beneficial
attributes of the
product
Enhance efficiency,
fast deployment and
reduce cost
Reduce cost
of packaging
materials and
processes
Quality & Safety
Water safety
and quality
sensors
Agrotech for safety and
quality raw materials
Ingredients to enhance
taste, texture, quality
Processes that
improve product
quality & safety
Increase product
stability and
safety
Product Edge
New benefits
of PoU water
systems
Agromaterials with
improved / unique
sensory and health
attributes
Enhance health and
well being profile of
our products
Processes that
provide new or
improved product
properties
Added value
beyond basic
role of package
Sustainability
Wastewater
treatment
Sustainable
agricultural practices
Technologies
that reduce our
environmental
footprint
Green packaging
Source: http://alphastrauss.com/category/about/about-alpha/alpha-challenges/
In the early phase of the Alpha Strauss Initiative, we conducted a thorough mapping of high-level technological issues for the global food industry and developed a matrix which can apply to any food company in the world. In selecting the Alpha Strauss partners to work with, we refer to this matrix and the specific needs we wish to address in our own food innovation program as determined by our business strategy and your needs. In cases where the technological solution is less relevant for our own product development, we assist entrepreneurs by referring them to industry partners in Israel and abroad, utilizing our vast reach and relationships in this market. Innovators and Alpha Strauss partners have access to a special website which supports the collaboration platform:  www.alphastrauss.com
Impacts: The Alpha Strauss Initiative has already yielded over 200 unique new technology ideas and ten of these are in more advanced stages of development. Hundreds of local entrepreneurs have had the opportunity to receive feedback on their ideas, and many have been able to develop their innovations in a safe environment with appropriate resources. As for us, at Strauss, we are advancing technologies that we could not have created alone, and this benefits our product development but, no less importantly, it drives an even more vibrant passion for innovation within our own teams. We hope to increase the Alpha Strauss platform to include new innovators and partners in the coming years, and turn this into a truly global platform. We seek to realize the new technologies under development and turn them into new consumer products and delivery systems with measurable benefits for global food quantity and quality development to meet unmet needs.
Supporting research to combat crop diseases and improve quality @StraussGroup #lettuce #big-vein- disease
Collaboration with research institutes and growers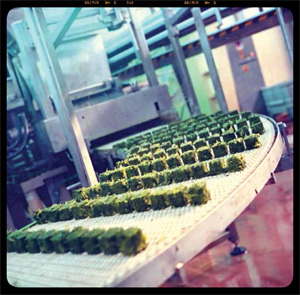 We use about 1,800 tons per year of lettuce on average, which is close to two million heads. You may not know this, but Lettuce Big Vein Disease is caused by two viruses originated in fungus and transmitted through the soil. The disease is prevalent mainly during the winter when ground temperature is lower than 20 degrees celsius. The main symptoms of the disease include enlarged veins, deformation and yellowing of the leaves and small size produce. Big Vein Disease causes a drop in the lettuce market value and in some cases, produce is not fit for sale and is wasted. This disease was identified in Israel over a decade ago but it did not become a significant burden on our food supply chain until a few years ago, when weather conditions including very cold winters and sand storms that spread the virus contributed to making this a rather serious issue. No adequate measures of protecting lettuce against this virus had been identified.
In 2012, we participated in research initiated by the Negev R&D Center (a research arm of the Ministry of Agriculture) in partnership with the Volcani Center, an agricultural research organization, to identify the fungus and the viruses causing the disease and find a preventive solution. Field studies took place in 2012, using two of our lettuce growers who provided fields in which to conduct the studies.  We have provided support through sharing our crop information and coordinating between our growers and the research facilities. In 2012, the researchers succeeded in identifying the fungus causing the disease, and we now continue our collaboration to assist in selecting the most efficient and safe treatment to help our lettuces remain healthy.