back
Digital literacy program
from news and media
07/11/2021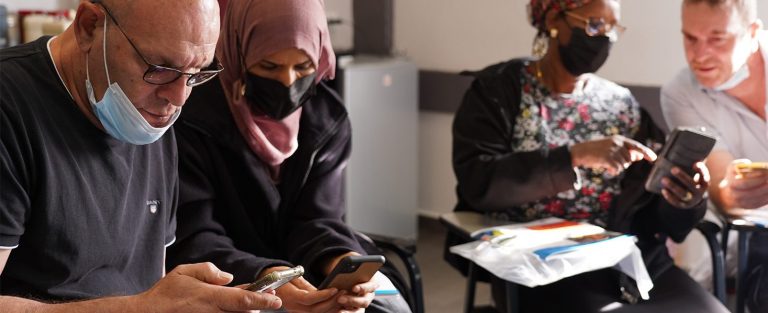 Imagine your life without the use of digital technology. Can you?
In our rapidly evolving world, the use of digital technology is gaining momentum and has become an inseparable, and even essential, part of daily living: we receive and consume services online, communicate with our kids and family, get information, register for events, and benefits, cultivate our personal development and learning, and the list goes on.
But nonetheless, numerous groups of people do not make use of digital technology due to knowledge and information gaps.
After a diagnostic process, we discovered that almost 500 of the employees at our plants and logistic sites possess inadequate digital skills and do not benefit from the advantages of technology.
As a result, we have launched a unique, first of its kind project: A Digital Literacy Learning Fair, which includes:
Several learning booths headed by experienced instructors, covering several topics: App stores and scanning QR codes, web surfing and search engines, the myVisit app for scheduling appointments, social media, how to protect yourself online (spam and phishing), landing pages and registration, Zoom, Hilanet – a unique online service for employees and managers for attendance reporting and payroll, "Lev Hayeda" – Strauss's learning app, and more.
The fair will visit each Company site for several days to accommodate days that consist of learning as well as days allocated to assimilation and individual support, according to the number of "students" at each site.
All employees who have been chosen in a preliminary screening process to take part in the project will receive a personal invitation in advance, as well as a card to indicate the stations completed by the employee at the fair.
The employees will rotate between the booths according to a timetable and in "bubbles", coordinated in advance (in accordance with COVID-19 restrictions), and will receive a small gift on completing their studies.
All students will be provided with printed professional materials, translated into relevant languages, to enable them to continue learning, practicing and gaining experience, at home too.
After the fairs, assimilation days will be held, with the aim of:
Ensuring that the study materials taught during the fair are understood
Supplementing organizational systems
Providing answers to specific questions and problems
Bolstering assimilation through more practice / "Let's do it together"
We feel that it is important to continue to provide tools that will help our people keep up to speed when it comes to skills that are essential in our changing world, and to be an organization that embraces technology as an engine that drives excellence and growth.