back
For the first time: preservative free Achla hummus
from news and media ,Dips & Spreads, Israel
04/07/2016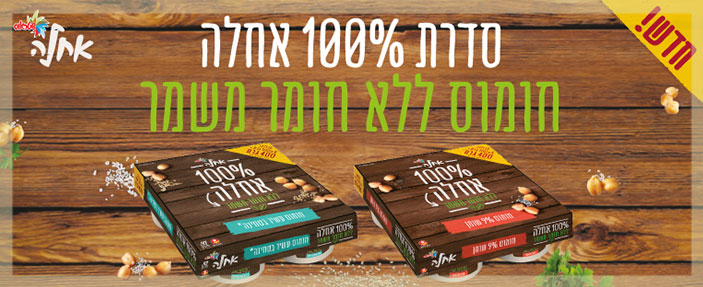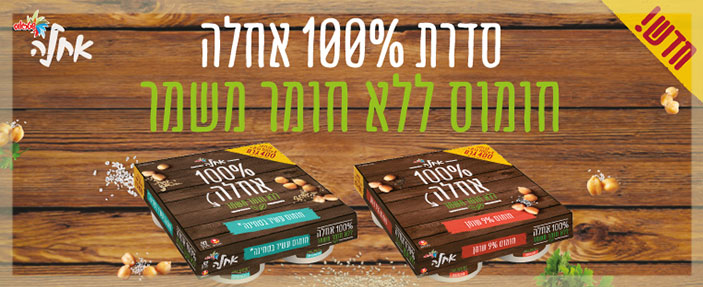 After years of research and development, Strauss launches the "100% Achla" product series, manufactured using new technology
Strauss Group has launched the pioneer "100% Achla" series of preservative free hummus products. The series is manufactured following years of R&D, using a break-through technological method that ensures a tasty, top-quality product which maintains its shelf life.
The development of the production process was supported by the Israel Innovation Authority at the Ministry of Economy. The process delivers a product with a shelf life of 40 days, similar to Achla Classic Hummus, but once opened, the product must be consumed within five days.
The "100% Achla" series is available in a 400g pack containing 4 cartons of 100g each. Like other Achla products, the new series is gluten free, and it includes two products:
"100% Achla Tahini Rich Hummus" – healthy preservative free hummus, rich in tahini and protein (9.7g per carton).
"100% Achla 9% Fat Hummus" – preservative free hummus with 9% fat, containing oil derived from high quality raw tahini only and no added oil.
The new technology that enabled the product to be developed was identified, characterized and assimilated by the Alpha Strauss project, which works to encourage and develop Israel's FoodTech community, advance innovative technologies in the food and beverage world, and assimilate groundbreaking technologies at Strauss Group.