back
International kudos for a startup from Strauss Group's The Kitchen FoodTech Hub
from news and media
09/01/2019
Yofix, manufacturer of the "Only" brand, wins first place in PepsiCo's Nutrition Greenhouse Program
The company, which vied against European startups, will be awarded a €100,000 grant
Israeli startup Yofix, which had its beginnings in Strauss Group's The Kitchen FoodTech Hub, has won first place in PepsiCo's European Nutrition Greenhouse competition. Yofix was accepted to PepsiCo's innovation accelerator program, where it worked for the past six months along with other FoodTech startups from all over Europe. As part of the program, participants received advice and mentoring by PepsiCo's experts. Yofix was announced as a finalist along with nine other startups and was ultimately declared the winner and recipient of a €100,000 grant. Yofix will be awarded the grant for its strategic launch and retail growth during the program.
Yofix is a FoodTech startup established by entrepreneur Ronen Lavie and managed by Steve Green. The company markets its brand, "Only", through Strauss. "Only" is clean-label, plant-based (non-dairy) dessert that contains probiotics. The product is based on rich, natural raw materials including oats, legumes, seeds and fruit.
Strauss Dairies, which identified the company's potential by as early as the initial stages, invested in Yofix together with the Israel Innovation Authority, and following a three-year process development of the product was completed, a new production line was set up at the factory in Netivot and a brand was built, which is sold today under the name "Only". It is the first product to "graduate" from the incubator and is a 100% Israeli development.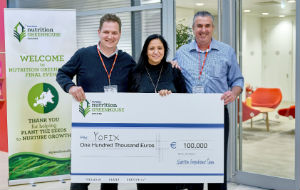 Steve, CEO of Yofix: "Winning the competition has given us an official seal for the innovation and uniqueness of our dessert on the international level. Our dream, before conquering world shelves, is for "Only" to be present in every home in Israel as part of the daily diet because of its great taste and health values."
Jonathan, CEO of The Kitchen FoodTech Hub: "We are thrilled that a giant like PepsiCo recognized Yofix's breakthrough technology and awarded it first place in its innovation accelerator program. The Kitchen invests in promising startups and helps them break into global markets, and it is only natural for Strauss's partners such as Pepsi and others to be part of the international breakthrough by these ventures."
PepsiCo: "It has been a privilege to partner with another stand-out group of exciting, innovative entrepreneurs in the second year of our Nutrition Greenhouse incubator program. Our vision remains steadfastly the same as when we launched in 2017; to support forward-thinking food and beverage startups that deliver great-tasting, nutritious products to people around the world."