back
Israel's Products of the Year 2014
from news and media ,Bakery and Cereals
01/01/1970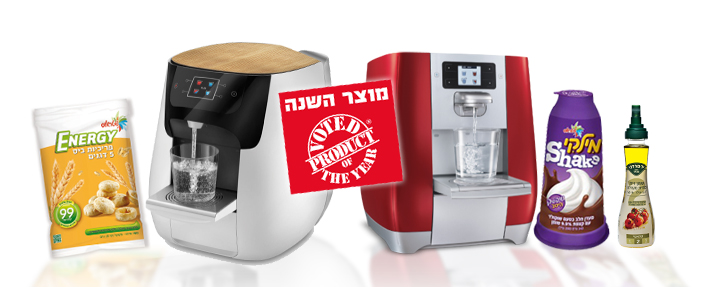 Product of the Year awards are presented in 30 countries around the world, and last night (Sunday), Israel's Products of the Year 2014 were announced in a ceremony held in Israel for the ninth year. All products and services winning the innovation awards were voted by the Israeli public in a comprehensive consumer survey conducted by Kantar Media research institute (with more than 2,000 participants), which is similar to the one conducted worldwide .
Strauss Group in Israel won the Innovative Company Of The Year title, together with Shufersal. Zion Balas , CEO of Strauss Israel: " Innovation is our growth engine, and we invest most of our resources in making new, diverse offerings to consumers. We are pleased to see that our consumers appreciate that."
Rami Ronen, CEO of Strauss Water, winner of two of this year's product awards: "Throughout the year we engage in the development of innovative technologies that expand the range of our solutions and contribution to consumers' quality of life. In the past year we set a new standard and I am glad that our consumers acknowledge that."
Strauss brands winning the Award:
Tami 4 Bubble Bar
The water bar that makes soda water as well! This Bubble Bar provides sparkling water at a click of a button, just before pouring, in a precise measured cup amount and three sparkling levels.
 Tami 4 Touch
A water bar tailored to the modern consumer, using color LCD touch screen, simple icons, large at-a-touch amounts of pouring water,  and a programmable water boiling mechanism .
 Milky Shake
As of today, you can drink your Milky dessert. Just shake, rattle and enjoy a new experience of  taste .
 
Energy's 5 Grain Mini Rice and Corn Cakes
Tasty snacking to prevent a sense of hunger throughout the day. The mini cakes in this series contain five whole grains with dietary fiber and come in sweet flavors .
Yad Mordechai's Small-Size Personal-Flavoring Olive Oil Bottle
A convenient solution to flavoring foods with olive oil during a meal : a small, light and non-fragile bottle with a nozzle that facilitates gentle to-taste dripping of quality olive oil.