back
New Appointments in Strauss Water:
from news and media ,Water, Israel
06/07/2015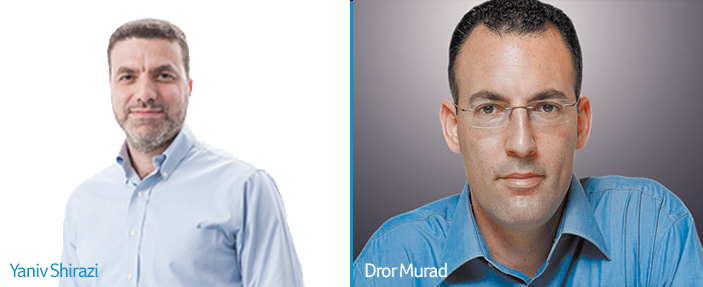 Appointment of VP Global Strategy, Product Innovation and Marketing; Appointment of CEO for Strauss Water Israel
Ronen Zohar, CEO of Strauss Water- the international water company of Strauss Group – today announced the promotion of company employees Dror Morad and Yaniv Shirazi to newpositions.
Dror Murad (44), who served as CEO of Strauss Water Israel for the past six years, was promoted to the position of V.P. Products, Marketingand Strategy at Strauss Water global.  In this capacity, Dror will formulate and lead the strategic plan of the company and oversee product development and marketing in all the countries where Strauss Water operates, working with its partners and distributors worldwide.  Dror holds a B.A. and an M.B.A from Ben Gurion University
Yaniv Shirazi (43), currently VP Strategy and Business Development at Strauss Water, will be promoted to the position of CEO of Strauss Water Israel.  Yaniv led the strategy and business development activity of the company and managed its international distributors apparatus.  In his new capacity, Yaniv will manage the company's activity in Israel.  Yaniv holds an M.B.A. from the Wharton School of Business in the U.S. and a B.A. in Government and Public Administration from the InterdisciplinaryCenter in Herzeliya.
On the occasion of these appointments Ronen Zohar, CEO of Strauss Water, said:
"Strauss Water is today promoting two of its finest executives to key positions as an integral part of a process designed to strengthen the company as Israel's leading water bar company that is also developing in additional countries overseas.  Our partnerships in China and England, and our international distribution apparatus in six other countries, are all based on advanced Israeli technology and unique human capital which, joined together, create real value for millions of consumers worldwide.
Dror is completing a very successful term in office, throughout which he led Strauss Water Israel to high growth, while building and strengthening the Tami4 brand.  He will now expand his contribution to include the global company, taking on the challenge of product development, innovation and building the Strauss Water brand across all activities.  I am confident that his extensive experience will contribute significantly to the challenges faced by the company, including its current and future markets.
Dror's successor, Yaniv, is the person behind the accelerated development of product sales overseas through franchisees; he is tasked  with the challenge of further developing  Strauss Water's position as Israel's leading water bar company,  creating added value for hundreds of thousands of households in Israel."
About Strauss Water:
Strauss Water is a leading international company that specializes in high-quality, great tasting purified drinking water solutions. Strauss Water develops, manufactures and markets environmentally-friendly Water Bars supplying hot, cold and carbonated water for home and business use, on the highest of world standards.
The company is the product of Strauss Group's investment in the technological venture H2Q and the acquisition of Tana Industries, owner of the Tami 4 brand (2009). The company's products are sold worldwide through business collaborations and local franchisees. In 2011 the company established local partnerships with the Chinese electronics giant, Haier, and with Virgin Group in the UK, and is also active through franchisees around the world. In the course of its activities the company developed four product series based on its water purification technology, which deliver hot and cold drinking water, and since 2013 – carbonated water as well. In 2014 Strauss Water's sales totaled approximately 548 million shekels. Since 2010 the company's average annual sales growth has amounted to approximately 9.4%