back
New CEO for Strauss Water Ronen Zohar, former Sabra CEO, appointed CEO of Strauss Water
from news and media ,Water, Israel, China
04/02/2015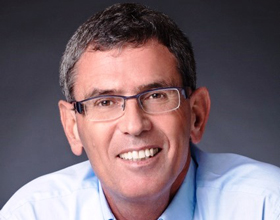 Gadi Lesin, President and CEO of Strauss Group, this morning announced the appointment of Ronen Zohar as CEO of Strauss Water. Zohar (54), married and father of three, began his career at Strauss 26 years ago, in which he rose through the ranks and successfully held a variety of positions in sales, operations and senior management, the most prominent of them being CEO of Strauss Frito-Lay Salty Snacks (2001-2005), CEO of Strauss Dairies (2005-2007) and CEO of Sabra (2007-2014). Zohar holds a bachelor of science degree in food technology from the Hebrew University of Jerusalem.
As CEO of Sabra, in the past seven years Ronen grew the company more than tenfold (from 45 million dollars to 480 million dollars), entering new product categories in salsa and guacamole, building a new hummus factory in Virginia and doubling its capacity four years later, building a Center of Excellence to develop the core category (hummus) and positioning the company as the Number 1 player, significantly distinct from the competition, as penetration rates of US households grew steadily each year and operations in Canada expanded.
Gadi Lesin, President and CEO of Strauss Group, said: "Ronen Zohar brings with him a rare combination of a people-oriented leadership style, extensive experience and strong proven skills in leading companies to impressive business performance, and knowledge in managing international partnerships and businesses in a complex environment. I am certain that Ronen's leadership abilities and extensive experience will contribute significantly to the company, and that together with Strauss Water management and its people, they will lead the company on to making the next quantum leap while ensuring its continued success in the future. This is another opportunity to thank Rami Ronen for the incredible journey he has made with Strauss Water since its establishment, leading the team and developing the vision into a growing and expanding reality"
About Strauss Water:
Strauss Water is a leading international company that specializes in high-quality, great tasting purified drinking water solutions. Strauss Water develops, manufactures and markets environmentally-friendly Water Bars supplying hot, cold and carbonated water for home and business use, on the highest of world standards. The company is the product of Strauss Group's investment in the technological venture H2Q and the acquisition of Tana Industries, owner of the Tami 4 brand (2009). The company's products are sold worldwide through business collaborations and local franchisees. In 2011 the company established local partnerships with the Chinese electronics giant, Haier, and with Virgin Group in the UK, and is also active (through franchisees) in Canada, Costa Rica, Cyprus, Finland, Portugal and Singapore. In the course of its activities the company developed four product series based on its water purification technology, which deliver hot and cold drinking water, and since 2013 – carbonated water as well. In the first nine months of 2014 Strauss Water's sales totaled approximately 408 million shekels, and in 2013 – 483 million shekels. Since 2009 the company's average annual sales growth has amounted to approximately 12%.
For more information on the company, visit http://www.strauss-water.com.