back
Shali Shalit-Shoval Appointed CEO of Sabra and Obela, Leading One of The Main Growth Drivers of Strauss Group
from news and media ,Dips & Spreads, Israel, USA
13/08/2013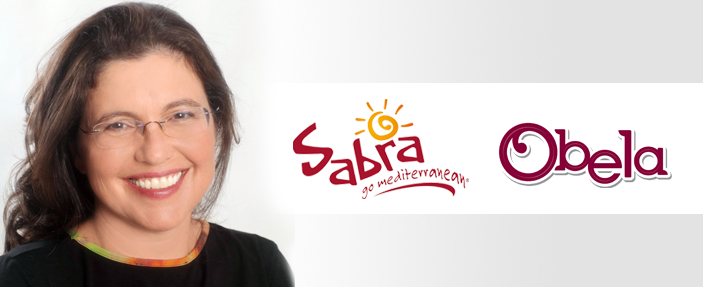 Gadi Lesin, President & CEO of Strauss Group, announced today the appointment of Shali Shalit-Shoval as CEO of Sabra-Obela, their international dips and spreads companies.
Shalit-Shoval has filled several major positions at Strauss Group over the past two decades, including Senior Vice President of Marketing, CEO of Elite Coffee, Manager of Excella confectionery plant in France, and, most recently, CEO the Salty Snacks company in Israel for four years. In her recent position, Shalit -Shoval steered the company toward significant achievements such as substantial growth, introduction of new products and increased market share.
Before taking office in the summer of 2014, Shalit-Shoval will serve as Vice President of Marketing at Sabra. Upon taking office she will replace Ronen Zohar who has served as CEO of Sabra for the past six years. She will be the first woman to fill this senior position.
Gadi Lesin: "Naming Shali Shalit-Shoval as key position holder at the Group is a vote of confidence in her knowledge, experience and high personal skills. We take pride in Sabra and Obela and are confident that Shali will sustain Sabra's growth trend and consistent development, while continuing to lead the refrigerated dips and spreads category in the U.S. and consolidating its position as an international brand outside of the U.S., through Obela. Shali's appointment is a clear manifestation of Group managers' development process, and of our conviction that the knowledge and experience gained in Israel can transcend its boundaries. Ronen Zohar and Giora Bar-Dea, who, at their request, will return to Israel upon completing their current terms in office, have led both companies to a series of outstanding achievements that placed Strauss Group and its products on the international map and made a significant contribution to its success. We are highly appreciative of their activities."
About Sabra:
Sabra was established in 1986. The company produces fresh dips and spreads for marketing in the U.S. and Canada.
In August 2005, Strauss acquired 51% of Sabra. This came after the Group identified the unique opportunity that lies in the Mediterranean dips category, a healthier, more authentic and closer-to-nature food; a fast-growing category under the healthy food trend in North America. Strauss, which regards itself as a company aiming to improve the quality of life of people in every country where it operates, has since invested considerable resources and transferred the experience and knowledge gained in Israel, through Strauss Fresh Foods, to the U.S. In March 2008, Strauss announced it has finalized a Partnership Agreement with the global PepsiCo Group, with both parties jointly owning a 50/50 stake at Sabra.
Sabra is currently the largest manufacturer and distributor of Mediterranean dips and spreads in the U.S., dominating the market in terms of sales and innovation. The company's market share in the hummus category stands at 59% and its market share in the general chilled spreads category stands at 28.6% – It is the leading dips and spreads company in the U.S.
Sabra's new factory in Virginia, which was inaugurated in 2010, enabled the company to immediately double its production capacity while reducing its ecological footprints. The planning process highlighted energy efficiency, reduced environmental impacts and ensuring a safe work environment for employees. This factory currently serves as a production and distribution center to more than 40,000 stores throughout the U.S. and Canada.
In June 2012, Strauss Group and PepsiCo launched "Obela", which expands the dips and spreads activity into Mexico and Australia. In 2012, they built a new hummus production factory in Mexico, while also purchasing a chilled spreads business in Australia.
Under the joint strategic plan of Strauss and PepsiCo, to lead the dips and spreads category in the U.S. and consolidate its activity as an international brand around the world, the companies decided to place all activities under the Sabra HQ, which will now support both the U.S. activity and Obela's expansion into other countries.
Files available for download