back
Strauss and Virginia Tech sign collaboration agreement in the presence of the Governor of Virginia
from news and media, Israel
10/07/2016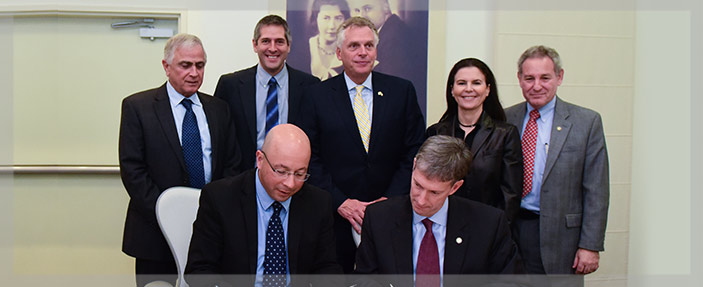 According to the memorandum of understanding between the two countries, for the next five years the parties will apply their expertise to advance food technologies for the benefit of the public
During a visit to Israel, the Governor of Virginia, Terry McAuliffe, and his delegation visited Strauss Group's offices to sign an MOU for the furtherance of research collaboration between Strauss's R&D units and Virginia Tech, the state's third-largest university and leading research institution.
According to the MOU, in the next five years the parties will use their respective areas of expertise to build a platform for collaborations between Israeli firms and ventures and American firms and ventures in Virginia, with the goal of promoting food technologies that benefit the common good. These activities will include joint industrial R&D, recommendations for the allocation of dedicated government resources to the advancement of food technologies, improvement of the value chain in the food trade, including technology development in the spheres of agriculture, food engineering, packaging, preservation, nutritional components, product innovation, quality control, handling and transportation, functional food, microbial food, etc.
Strauss has been active in Virginia for over a decade through Sabra Dipping Company, which is jointly owned by Strauss and PepsiCo. Over the years Sabra has become the leader of the US dips and spreads market thanks to its hummus products, which are manufactured in the world's largest hummus production facility in Richmond, VA. The collaboration between Strauss and the Commonwealth of Virginia has caused farmers, who formerly grew tobacco, to switch to the cultivation of garbanzo beans as a result of the growing demand for hummus products in the US.
Strauss Group Chair Ofra Strauss said at the signing ceremony: "The MOU signed today between Strauss Group and Virginia Tech will enable us to take another step forward in the realization of our mission to produce good, fresh, nutritious food that is increasingly available to everyone. This cooperation means reaching out to a lot more people who will be able to benefit from and enjoy better food."
Ralph Robbins, Executive Director of the Virginia Israel Advisory Board (VIAB), said at the ceremony: "Collaboration around agriculture, food research and development is another important phase in the relationship between Israel and the United States."
In the photograph, from right to left: Ralph Robbins, Executive Director of Virginia's VIAB; Ofra Strauss, Strauss Group Chair; Governor of Virginia Terry McAuliffe; Gadi Lesin, President & CEO, Strauss Group; Giora Bar Dea, Deputy CEO of Strauss Group.
Signatories (from the right): Prof. Eyal Shimoni, CTO, VP Technology, Strauss Group; Todd Haymore, Virginia's Secretary of Agriculture and Forestry
Photograph by Strauss Group's PR unit