Listen. Implement. Improve.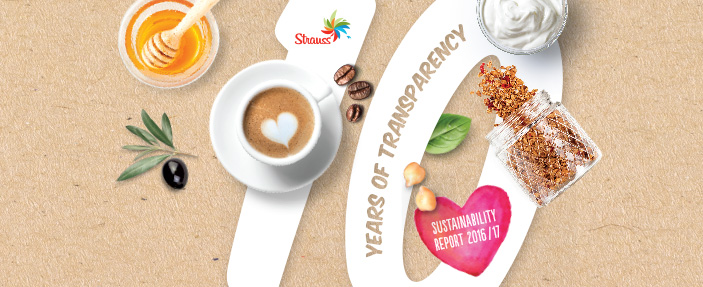 Strauss Group's 2016 Sustainability Report
This is Strauss Group's tenth annual Sustainability Report and it describes our key activities in 2016 to advance the sustainability performance of our global business. The purpose of this report is to update our stakeholders briefly and concisely about our priority performance and impacts. The report also represents our annual communication commitment to the United Nations Global Compact.
view the full Sustainability Report 2016 >
We view sustainability as a way to manage risk in our business and to help identify opportunities to advance a sustainable society and planet for our stakeholders. Our robust corporate governance, our core values and ethics, and our advancement of our Social License to Operate framework management approach underpin our actions. This report integrates all these elements and showcases our key activities.
Data presented in this report relates to the calendar year 2016, and examples of practice through early 2017. Our last report was published in 2016 and covered activities in 2015. No significant restatements of information have been made; small adjustments to data are noted alongside the data as presented. There are no significant changes in material topics or report boundaries.
Entities includes in this report are all those included in Strauss Group's consolidated financial accounts for the calendar year 2016 with the exception of the Max Brenner business (which was divested in early 2017).
This report has not been externally verified. It is our policy to ensure robust internal controls of data. Strauss Group also works with external consultants to prepare our report content and they challenge information and data during the reporting process as required.
This report has been prepared in accordance with the Global Reporting Initiative (GRI) Standards, published in 2016.
We thank you for your interest in this report and would be pleased to hear your feedback. Please contact our global Sustainability Director, Daniela Prusky-Sion: daniela.sion@Stauss-Group.com
For more about Strauss Group: www.strauss-group.com