Covid-19 - our commitment to stakeholders
Due to recent corona virus events, the needs that surface from the field and the fact that many people are in financial and mental distress, Strauss wishes to promote a variety of initiatives meant to assist its key stakeholder groups tackle these challenging times and help our communities fight the corona crisis outbreak.
The group adheres to global actions being conducted across the world and advances solutions to urgent and immediate needs, strengthening existing infrastructure while focusing on the organization's core business. The initiatives are a manifestation of the company's core values and beliefs, its legacy and way.
Strauss operates with key stakeholder groups – the people of Strauss, our suppliers and customers, communities and the food eco-system.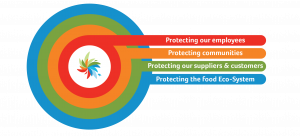 The actions we took are focused with:
Accessible food to elderly people and underprivileged
Close contact and supply to medical personnel with the variety of our products
Key initiatives
Cooperation with "Latet" in Israel:

Distributing 1,000 food packages and supplies to the elderly prior to the Pesach holiday – with financial and product donation and the assistance of volunteers from strauss group employees.
Distributing 1,000 food packages and supplies to the elderly in the Arab community during the Ramadan – with financial donation and employee volunteer to help make food accessible for the Arab community so they can remain in their homes and still celebrate the holiday during Ramadan

Cooperation with the Matnasim organization to the distribution of food packages for Pesach as part of our israeli campaign to protect the elderly population. 2,000 packages were handed out throughout the country.
"Vesamarta" initiative – supplying 500 indulging packages to 150 geriatric facilities in Israel
Employee volunteering to protect the elderly – a weekly "happy talk" that our employees took part and called lonely senior citizens
The distribution of 10,000 packages with the Israeli organization for food producers along with the biggest food manufacturers in Israel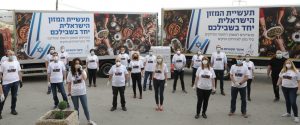 A food truck to support Israeli medical personnel in hospitals and "Magen david adom" units across Israel- the truck delivered products from the variety of Strauss's products and reached over 70 medical institutions and 5,000 medical personnel enjoying these products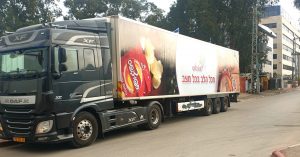 Global initiatives
Sabra distributed 11,000 products to a variety of hospitals in New York
The coffee company in Romania has distributed coffee products to first responders – medical personnel and local law enforcement
Sabra has delivered more the 2,000 food donations through local food NGO's in New York
The coffee company in Poland distributed more than 41 KG's of coffee in the Poznan area
Sabra delivered Guacamole dips to students that suffer from under nutrition in New York
The coffee company works on promoting venture to support senior citizens through an initiative in Serbia to distribute 50,000 coffee products