Foodtech Innovation
Innovation is the way we keep our promise to our consumers to keep pushing the envelope to deliver foods and beverages that improve their lives. It's also the basis for maintaining Strauss Group as a vibrant, dynamic food company that continues expand its reach to consumers around the world and deliver business growth. Innovation comes in many forms, at different stages of the product development cycle, so it's important to maintain a systematic approach to ensure we explore all possibilities to make products better and make better products.
Our innovation framework comprises four key channels of innovation:
Brand Innovation: Ongoing generation of ideas for new products, brand extensions and technologies via our R&D experts, employee, consumer or supplier suggestions. These ideas are progressed through an innovation pathway and result in the launch of more than 200 products each year across our group of companies.
Improvement Innovation: This focuses on responding to identified consumer needs, such as salt and sugar reduction, and exploiting new technologies to deliver the desired product qualities.
Breakthrough Innovation: Working with startup companies at the beginning of their journey is another route to innovation. We help these companies develop and commercialize their innovations while piloting and adopting their new technologies within Strauss Group.
Seed Innovation:This means taking a broader, collaborative approach to supporting the FoodTech community and bridge a market failure by nurturing early stage technologies that will serve the food industry in general and not (only) specifically Strauss Group. While some of the technologies align with Strauss Groups innovation goals, this approach is targets industry-wide transformation and consumer benefit on a much greater scale than via Strauss Group alone.
Changing the world of dairy foods
The growing awareness of the health benefits of plant-based foods, combined with the increase in individuals with milk allergies and lactose intolerance, has led to an increase in the demand for dairy alternatives, creating a market worth billions of dollars and an exciting new global consumer base. In response, one of the first initiatives incubated in The Kitchen, has now delivered first-of-a-kind plant-based yogurt alternative that Strauss launched in Israel in 2018. The brand is called ONLY and it is a dairy-free, soy-free, clean label yogurt alternative which uses only natural ingredients.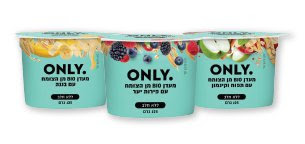 " The Kitchen is a builder of companies. We invest in promising startups and help them break into global markets, and it is wonderful that Strauss's partners such as PepsiCo, Danone and others can be part of the international breakthrough of these exciting ventures." Jonathan Berger, CEO of The Kitchen FoodTech Hub
ONLY is the result of collaboration between Strauss Group and Yofix Probiotic Ltd, a FoodTech startup with a prebiotic and probiotic platform for dairy alternatives based on a unique blend of cereals, nuts and seeds. The launch was supported by an investment of more than a million dollar in a dedicated production line.