From our Leadership
Improving People's Lives
When I think about how to prepare my opening message for the annual Strauss Group Sustainability Report, I am always faced with a dilemma. This is our eleventh report and the task gets no easier. On the one hand, I want to refer to the many positive facets of Strauss Group and talk about how we behave responsibly, ethically and in ways that create a movement of improvement that improves people's lives. On the other hand, I'd also like to say that we are on a journey, and we have much more to do. As proud as I am of what we have achieved, I know we must do more. Striking the balance between pride and humility is a delicate endeavor. We aim to be authentic.
The values we have always embraced, from our family beginnings, include collaboration and sharing. We have always known that a movement of improvement needs partnership, shared commitments to deliver transformative change, working together in a way that cuts across traditional boundaries. For example, the Alpha Strauss FoodTech Community, that we started several years ago, brings together scientists, nutritionists, technology experts, manufacturers, regulators, investors and a whole community of changemakers, collaborating to achieve breakthroughs that improve people's lives. For me, attending this year's FoodTech conference, hosted by Strauss Alpha and our FoodTech hub, the Kitchen, was truly eye-opening. It gathered 1,200 delegates from more than 60 countries in a spirit of listening, learning, sharing and partnering. The 20 years of our Strauss Institute and its shared platform of development in collaboration with the food and nutrition community, health professionals and scientists, also shows how change can be driven through collaboration and sharing. These are examples of realizing the vision of how a large food company can use its scale, influence and resources for good. We have come a long way, but the journey is not over.
The journey continues, not only because there is more we can do to address today's known global food challenges, but also because the challenges of tomorrow are emerging. Increasingly, for example, as a food company, we are expected to take a position on public health, not simply manufacture food products. Once, it was good enough to focus on food taste, safety and quality. Now, the emerging connections between food, its source, the way it's produced, the way it's consumed, and the transparent, inclusive practices of food companies are changing how we think about the role we play. Strauss has taken steps to address these challenges, improving the nutritional profiles of our products and offering foods to meet new health considerations, such as the 500 gluten-free products we offer our consumers in Israel. We have come a long way, but there is a long way ahead.
Improving people's lives is the journey we are on, together with all our partners. It's a journey that is defined by the expectations of all those we serve, and we must continue to listen carefully, proactively, constantly reevaluating how we deliver our promise and earn their trust. We have come a long way, but that's history. We can be proud for a moment, but we continue the journey.
Thank you for your interest.
Ofra Strauss, Chairperson, Strauss Group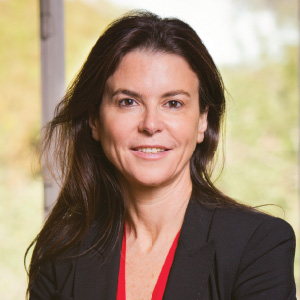 Aiming to be Trustworthy
The past year has been especially significant for us at Strauss Group. This was a year in which, alongside changes in the leadership of the Group and its subsidiaries, we performed strongly as a business, delivering growth at the Group level and in all our subsidiaries. It was also the year in which I was proud to take on the role of Chief Executive after 22 years of serving the Group in different capacities and in different countries.I thank our former Chief Executive, Gadi Lesin, for leading Strauss Group to achieve positive business results while maintaining our core of responsible and ethical culture and practice.
Alongside strengthening our current business base, we have also directed much thought to defining and planning our future. To deliver our mission to improve people's lives, we will focus on continuing to develop our people and leaders, ongoing investment in innovation, producing real and good food for our diverse consumers and doing everything in our power to be a trustworthy company.
Our stated goal, to be a trustworthy company, is central to our progress. In order to advance along our journey, in 2018, we conducted an in-depth study to understand today's expectations of food companies and learn what's important to our consumers, employees, nutrition professionals and other groups who are connected to our business, as well as what inspires trust in Strauss Group.
We have already taken steps along the way. For example, we have built a balanced nutrition strategy as part of the deep understanding that food affects public health. We have redefined our marketing communications principles because we understand that marketing shapes behaviors. We are engaged daily in identifying and investing in advanced FoodTech technologies that will help us and the food industry around the world bring people better food in a better way. Strauss Group promotes a balanced diet and tries to provide practical nutritional options for a wide range of consumers.
At the same time, we continue to support our people and their growth within the organization through training and development opportunities so they can successfully adapt to a changing environment. We maintain our focus on a safe workplace for all our employees and we strive to embed a culture of inclusion, giving employees the tools and the infrastructure to be their best selves at work. In doing this, we are better able to deliver innovation that improves people's lives across our markets. We report our activities and progress in delivering products and services, all in the spirit of continuous improvement and transparency.
Becoming a trustworthy company is not a project which has a beginning, middle and an end. It's a journey, a way of life, and a commitment that we strive to fulfil every single day. It's part of our responsibility as a global food and beverage company. And this will continue into 2019 and beyond, as we strive to deliver business success and greater positive impact on people's lives.
I thank you for choosing to read this report and invite you to comment and share your expectations with us. Thank you for being a part of our journey.
Giora Bardea, Chief Executive Officer, Strauss Group